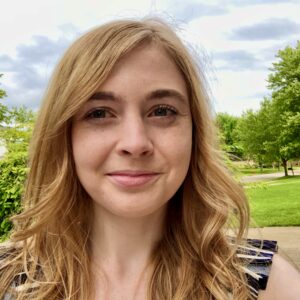 Latest posts by Erin Jamieson
(see all)
If you're anything like me, you like exploring the world in Minecraft– but sometimes it's good to have a place to shelter and see everything that's going on. From small and modern to epic and inspired by fantasy, building a treehouse is one of my favorite projects in Minecraft. And I'm here to share with you my favorite ideas and designs. 
Whether you're a noob at a building in Minecraft or a pro, having a blueprint shows just have much you can design. And even experts will be impressed with some of these designs. This guide will tackle the basics of how to use a treehouse, how to build an easy one, and fantastic designs, including the exterior and the interior. With step-by-step tutorials, everyone can update their save file with a treehouse that will take their village from basic to epic. 
Bottom Line Up Front Summary:  If I had to recommend just one treehouse design for Minecraft builders, it would be this fairy treehouse. It's small, simple, yet unique. You can use this basic template to make larger treehouse designs or even create an entire kingdom of treehouses by connecting them with wooden bridges. 
My Top Treehouse Design Ideas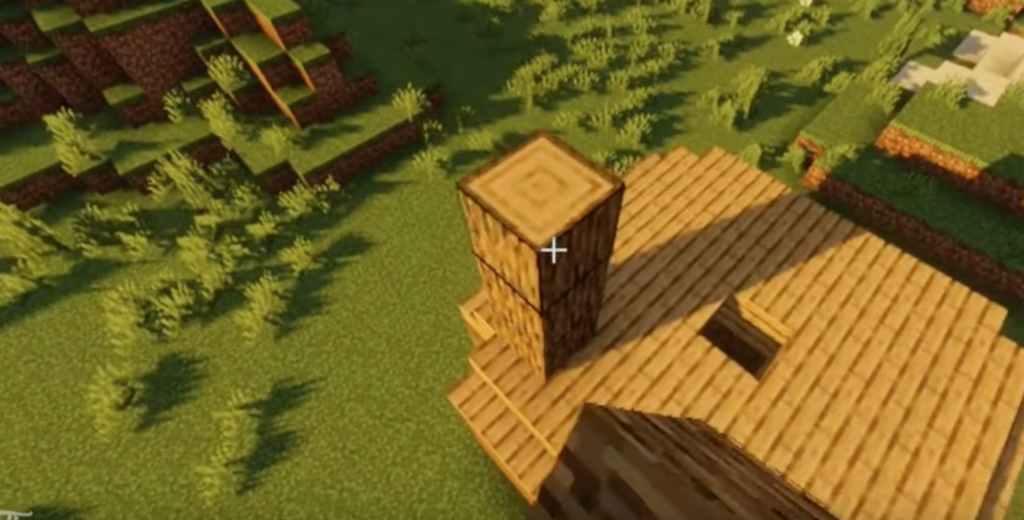 Awesome Treehouse Designs: Try These
If you want to go beyond the simple treehouse concept, there's a lot more you can do. I always like mastering the basics, then moving on to large and more complex designs. These designs are useful, aesthetically unique, and blend in a wide variety of biomes. Check out these designs, templates, and step-by-step tutorials to push the boundaries of your treehouse-making projects. Whether you're a new builder or a pro, here's what you need to try making. 
Castle Treehouse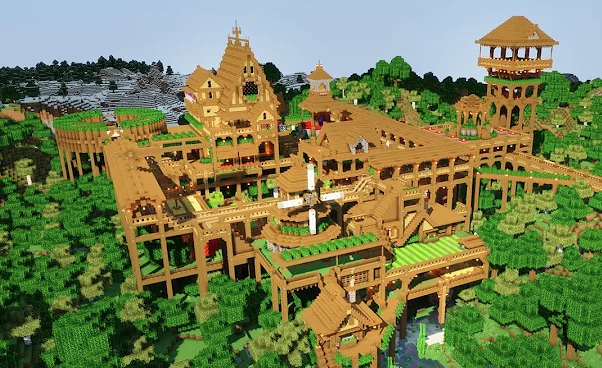 Do a castle aesthetic and a treehouse go together? They do if you're a pro and ready for a long-term project to create your treehouse kingdom. I admit: I find this project a bit daunting– but also very rewarding. Experience a world as you have never before by correcting a series of connected treehouses. For this project, I recommend sticking to Creative Mode, because the time commitment, difficulty, and wealth of resources are going to be even that much more challenging for Survival Mode. Add stone slabs to create a castle-like look to your treehouse bases. You can connect a series of treehouses with hanging bridges– even rope bridges will do. But an elaborate design includes turrets, high archways, and an interconnected system of wooden bridges. The fantastic project is best suited for a Forrest space– but that always poses the challenge of clearing away many trees. If you want a true building challenge that will keep you occupied, this castle treehouse design may be the best template for you. Watch the Tutorial Here. 
Main Materials
Building Time
Several Days to Several Weeks 

8 and a half-hour tutorial 
Elven Treehouse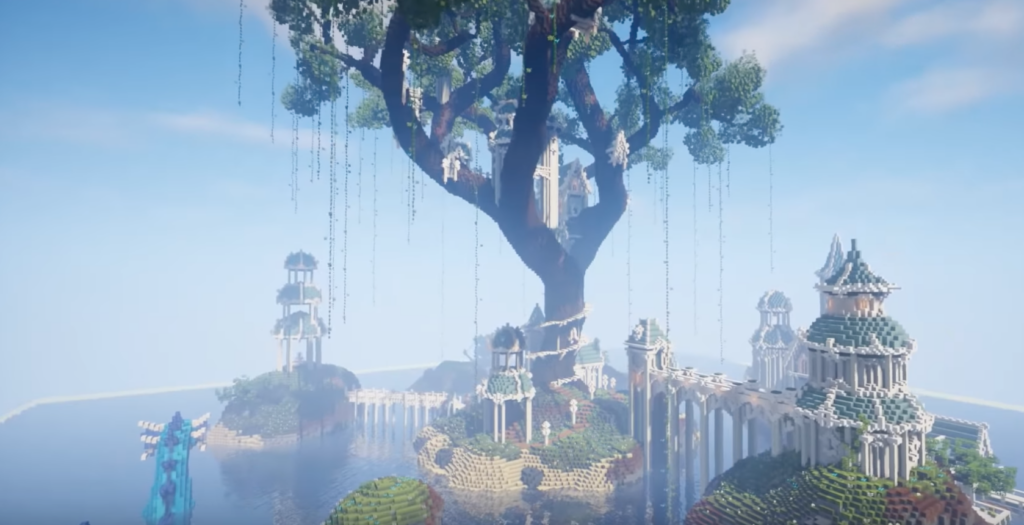 Ever since my father read me the first Lord of the Rings book when I was young, I've been fond of fantasy designs, especially those that are Elven-inspired. With a tutorial, you can step into a whimsical fantasy world of your creation. The style of an Eleven treehouse includes intricate details, like trim on the roof, and blending unique decorations. Hanging lanterns add an enchanted feel. But one of my favorite ways to capture this design is to set it on its island. By doing so, your treehouse building transforms from cool to epic, embodying magic and wonder. A lush island should be further decorated with flowers and other plants. An elaborate bridge sits in the center of connected treehouses. However, this is a simpler, smaller-scale design than my previous idea. Watch the Tutorial Here. 
Main Building Materials
Building Time 
45 minutes to 3 hours (depending on scale) 

9-minute tutorial 
Fallen Treehouse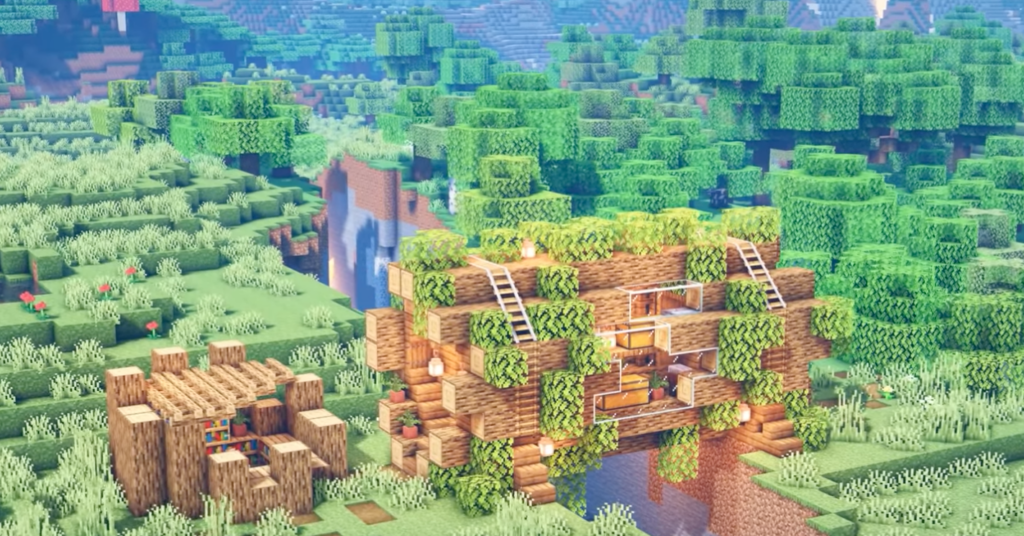 Something I love about the Minecraft community? When you think you've seen or built it all, you find something new. If you like the idea of making a treehouse in Minecraft but want something a bit different, you can always construct a fallen treehouse. A fallen treehouse is as it sounds: it takes the template of a traditional treehouse but condenses it, as though it's collapsed. This ruins-like look still serves as a shelter and would be ideal hidden with a heavily wooded area. While this design doesn't provide the same level of observational abilities, it is a great shelter for Survival Mode. While certainly innovative, it's a relatively easy treehouse to build. The trickiest part is the cutaway design for the central entrance and the angled ladders which connect top to bottom of the treehouse base.  Watch the Tutorial Here. 
Main Building Materials
Wood Slabs

Vines, other Greenery

Ladders
Building Time 
25 minutes to 1 hour 

12-minute tutorial 
Fairy Treehouse

You may wonder what the difference between an eleven and fairy treehouse design in Minecraft is. The reason why I'm including this as one of my favorite design ideas is that a fairy treehouse embodies the cottage core aesthetic. A smaller project that makes a treehouse based on its island, the fairy treehouse blueprint of my choice is a very small treehouse. It's a traditional, scaled-down wooden treehouse and a fairly straightforward design. The difference is that the focus is on decorations and landscaping. Overgrown vibes, bursts of wildflowers, flowers beds, and twinkling lanterns are what transform this seemingly simple treehouse design into something ethereal. This cute treehouse design is one of my favorites and can be built by anyone. If you're ambitious, you can take this simple blueprint and map out an entire kingdom of interconnected fairy treehouses. Watch the Download Here. 
Main Building Materials
Wood Slabs

Chests

Carpet 

Pumpkins, Lanterns, Flower Beds, Other Decor
Building Time 
30 minutes to 1 hour 

16-minute tutorial 
Floating Treehouse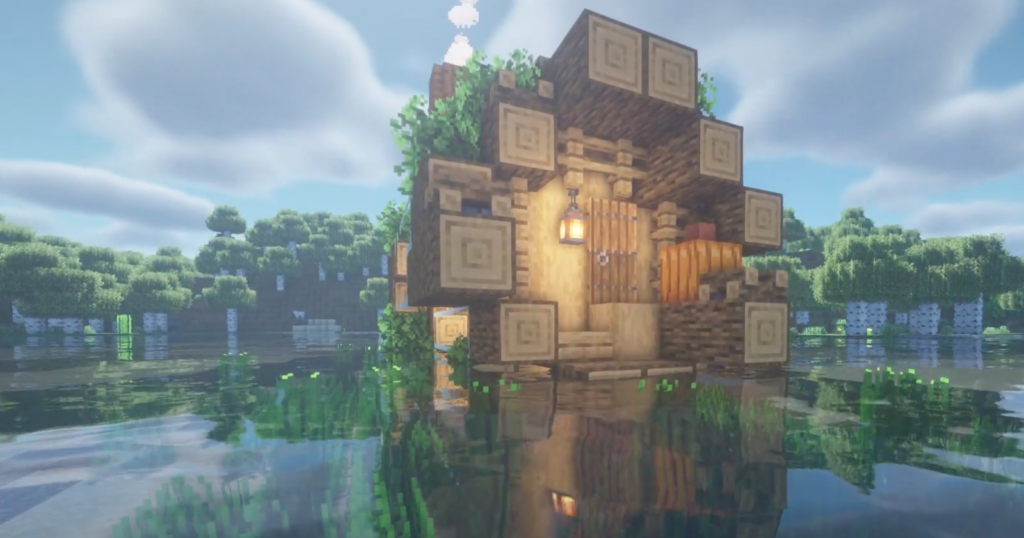 There are a few interpretations of a floating treehouse design. You could have a floating island treehouse base but I also love a treehouse that 'floats' directly on the water. If you've built Minecraft docks, then you'll feel at home following this template. A floating treehouse, much like a fallen treehouse, takes the typical structure and deconstructs it. Since its base sits right on the water, you'll have access to fishing and boating if you choose. With this type of treehouse, I prefer a unified oak wood look and will add in some chests and/ or barrels. Add a chimney and vines on either side to blend seamlessly with the biome. It's a small treehouse design and easy to build Watch the Tutorial Here. 
Main Building Materials
Wood Slabs

Chests

Lanterns

Fences
Building Time 
15 minutes to 30 minutes

7-minute tutorial 
Jungle Treehouse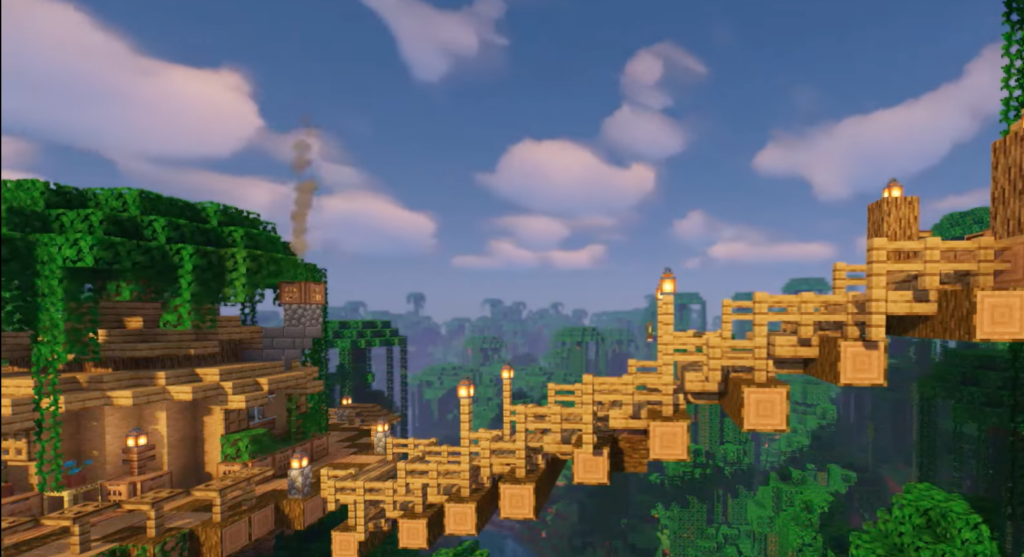 If you want to build a treehouse in a jungle biome, why not try an aesthetic that will match? I like building treehouses in the jungle biome because it's flush with greenery and perfect for a more 'hidden' treehouse. You can also find unique crops, like cocoa beans and melons, and, of course, search for an enigmatic temple. The key to this type of treehouse is to copy an earthy, natural vibe, all with a dramatic wooden bridge. Torches add a timeless, earthy decoration and make this practical to use. You start in a lush region, building ladders up to the base. The more secluded, the better. I admit: it's a bit painstaking to clear away trees and other greenery, but that's what sets this design apart. Watch the Tutorial Here. 
Main Building Materials
Wood Slabs

Lanterns of Torches

Moss 

Materials for Bridge
Building Time 
30 minutes to 50 minutes

16-minute tutorial 
Modern Treehouse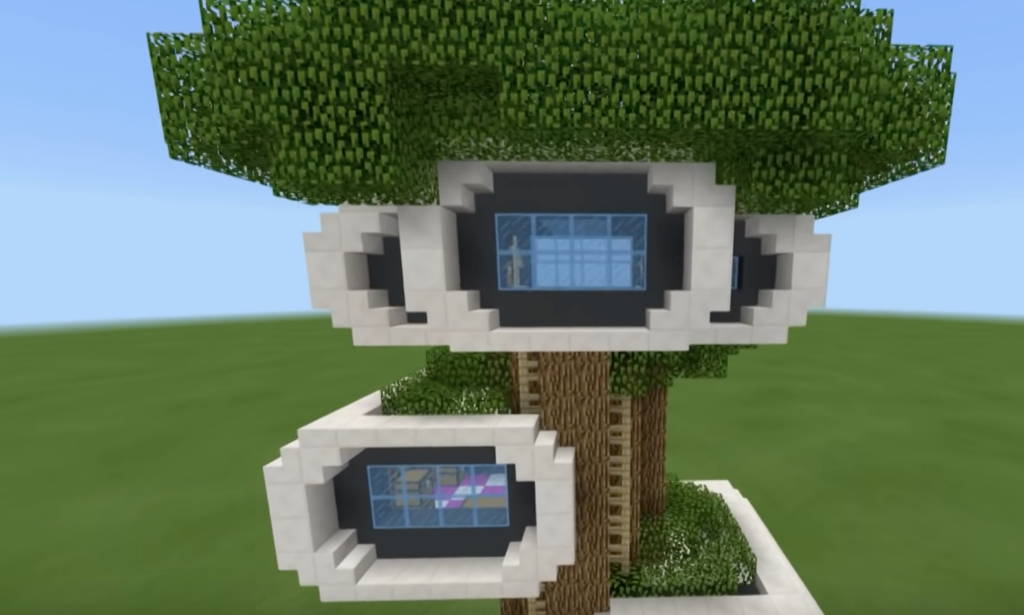 Modern and even a bit futuristic if you stretch the design, this treehouse is perfect if you want a unique idea for a town or even a city.  What distinguishes this treehouse template is all about the lookout windows. These windows are cubicles that stick out of the tree and are also amazing for lookouts. Keep the treehouse itself simple, and focus on designing both the windows and the interior of the modern treehouse. That interior calls for modern furniture and vibrant carpets. Adopt a color scheme that will make this treehouse stand out. I love this design because it shows that treehouses really are versatile and really can fit into a wide range of Minecraft areas. Watch the Tutorial Here. 
Main Building Materials
Concrete

Glass Panes

Furniture 
Building Time 
40 minutes to 1 hour 

33-minute tutorial
Natural Treehouse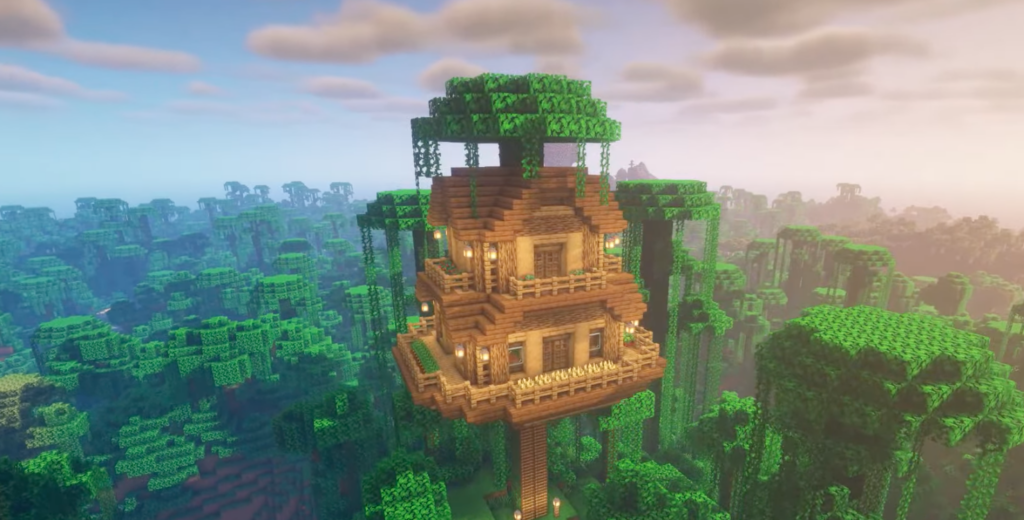 I love lush landscapes, and so I knew I had to include this treehouse design idea. It's traditional, but with a lot of flares. Of course, this is a design that you could have a ton of fun customizing. But I do think it's one of the most impressive, while still being easy enough for those of us who don't think of ourselves as expert builders. The treehouse would look at home, nestled near a farm. Begin by establishing a base, then construct dramatic wooden ladders on either side or even four sides. The wooden platform is accented with hanging vines. I love that you keep the exterior and interior simple, showcasing the lush landscape instead. However, tiered roofs and lanterns will add that extra touch of natural allure. Watch the Tutorial Here.
Main Building Materials
Cobblestone
Gravel
Grindstone
Jungle Plants
Building Time
30 minutes to 1 hour
25-minute tutorial
Treehouse with Water Slide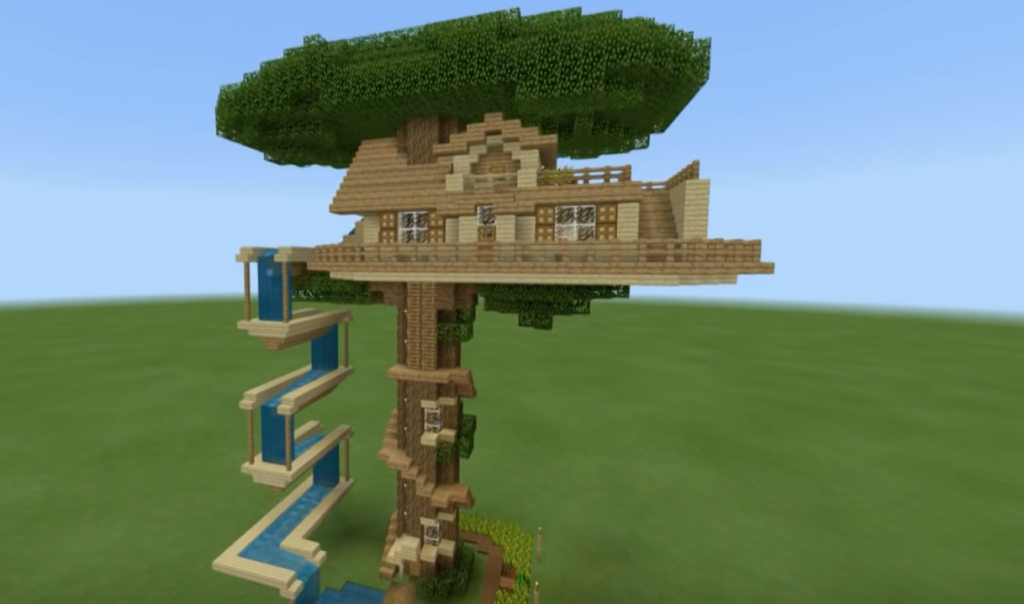 I have so many happy memories with water slides. My older brother and I used to transform our playhouse into a theme park, pretending it was a treehouse and our slide a theme park water slide. That's part of my bias why I love building a treehouse with a water slide. But even without those fond memories, it's hard to deny how fun this style of a treehouse is. You can take the template or even a simple treehouse and attach the slide. The tricky part is establishing a system of flowing water using slottable wooden platforms. You have to extend your stairs so that they are compatible with the water flow, eventually removing rails to direct the water. This is one of the most challenging- if not most challenging treehouse designs. But the reward is worth it. Watch the Tutorial Here.
Main Building Materials
Water Source
Wood Planks
Fence
Stairs
Panes
Leaves
Building Time
1 hour 30 minutes to 2 hours 30 minutes
1-hour tutorial
Hobbit Hole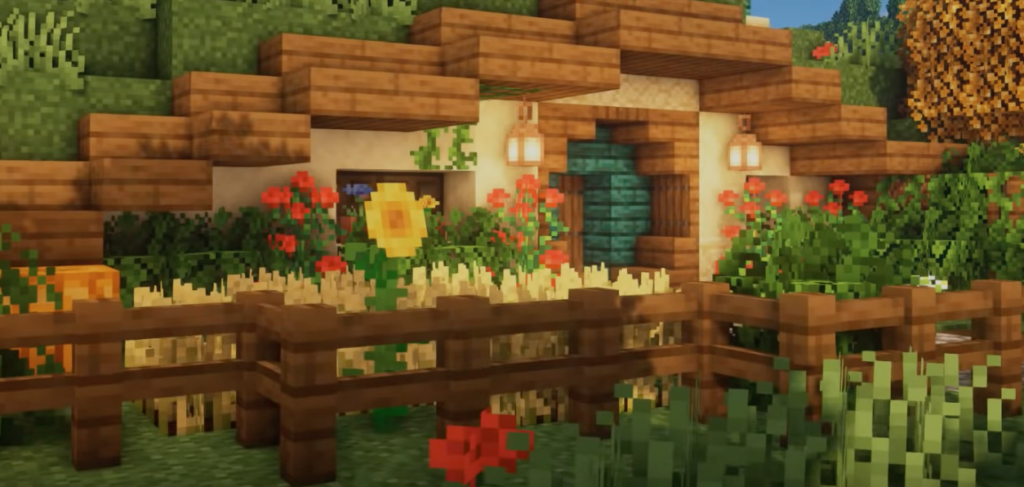 While this doesn't fall under the typical treehouse category, in many ways it works like an inverted treehouse. A hobbit hole is whimsical and a fantastic addition to your Minecraft world, even if you don't love Lord of the Rings as much as I do. I like it for being aesthetically pleasing, but it can also be a safe place to sleep and store resources for Survival Mode. Luckily, the exterior construction is fairly easy, leaving plenty of room and time for a fabulous interior. Build a home base under a hillside, with tiered wood planks serving as the roof. Simple cutouts serve as windows. Ideally, you could use the natural landscape to form the decor surrounding the home. Like a treehouse, the natural environment inspires the interior. I like earthy tons with plenty of flowers and grass. Watch the Tutorial Here.
Main Building Materials
Plants
Wood Planks
Fence
Stone
Plenty of Nature-Inspired Decors
Building Time
 30 minutes to 1 hour
16-minute tutorial
Frequently Asked Questions
Question: How do you build a tree in Minecraft?
Answer: If you don't happen to be around trees and have a lot of space to work with, you can build one by hand. This also provides the advantage of controlling how large the tree is, and what shape it is. For a simple tree, begin with six logs placed on top of each other. It's easiest to work with a relatively flat terrain type. Three logs up, place leaves surrounding the perimeter. Repeat this process so that the leaves form a cube-like shape outward. Placing a block on top of this will provide the top to your tree. This is a basic template that can be tweaked. Advanced trees will add other colors, branches, and expand outward more. 
Question: How do you make a fantasy tree in Minecraft?
Answer: Bored with the simple trees you see in your Minecraft world? Why not mix it up a little by building the ultimate fantasy tree? The key to a fantasy tree is a slightly slanted shape, playing with leaf colors, and adding decorations like hanging lanterns. My favorites are these four custom fantasy tree builds. The 21-minute tutorial is all you need to build fairy-like trews ideal for a fantasy kingdom in Minecraft. Watch the Tutorial Here. 
Question: How do you make a tree monster in Minecraft?
Answer: It's one thing to build a tree in Minecraft, but if you want an alternative to a treehouse, a tree monster may give you the right inspo. A tree monster is a fantasy take on a tree, and a fun building hack. A giant tree monster base is for a pro (not a noob) builder and takes a few hours to complete. The 50-minute tutorial includes a full exterior and interior. Stone, cobble, moss, leaves, mushrooms, wood slabs, granite, and concrete are some of the main materials for this epic build. Watch the Tutorial Here. 
Question: Are there any treehouse mods?
Answer: As much as I like a Vanilla Minecraft game, there are incredible mods. However, there was only one Minecraft mod specifically for treehouses that I could find. The problem? The mod lacked a description and doesn't appear to be updated. Luckily, even the most fantastic treehouse designs don't require a mod to build. 
Question: How do you build a simple treehouse?
Answer: By following a step-by-step process, even new builders can easily design an exterior and interior to make a cool, custom simple treehouse in Minecraft. Growing a tree requires four saplings. These saplings must be placed beside each other and can be fertilized using bone meal. Start at the base– a trunk that 2 blocks thick with suffice for a small, simple treehouse. You'll be working will hollowing out a tree trunk, adding an interior and branch off locations. I recommend a treehouse of around 10 blocks high, to begin with. To use an already made tree, you're mostly pruning the leaves and building up to the top. You'll then need either an exterior ladder, a spiral staircase, or an interior elevator for transportation.  If you're not sure where to start, these basic Minecraft recipes can help.
Final Thoughts
I won't lie: building and designing a treehouse in Minecraft so that it looks cool isn't as simple as tutorials sometimes make it look, especially if you're going for an epic design with additions like water slides. At the same time, treehouses are incredibly useful. Whether you're designing a simple modern treehouse or a whimsical floating treehouse, they can be used for observation and as a way to retreat from mobs. I also love using treehouses to get a better understanding of the world I'm in. And if you're just at a loss for what design to select, start simple. Even a simple treehouse can give you some of these benefits- and you can always expand on the design to make an awesome treehouse of your own. 
Final Recommendation: Lego Minecraft Treehouse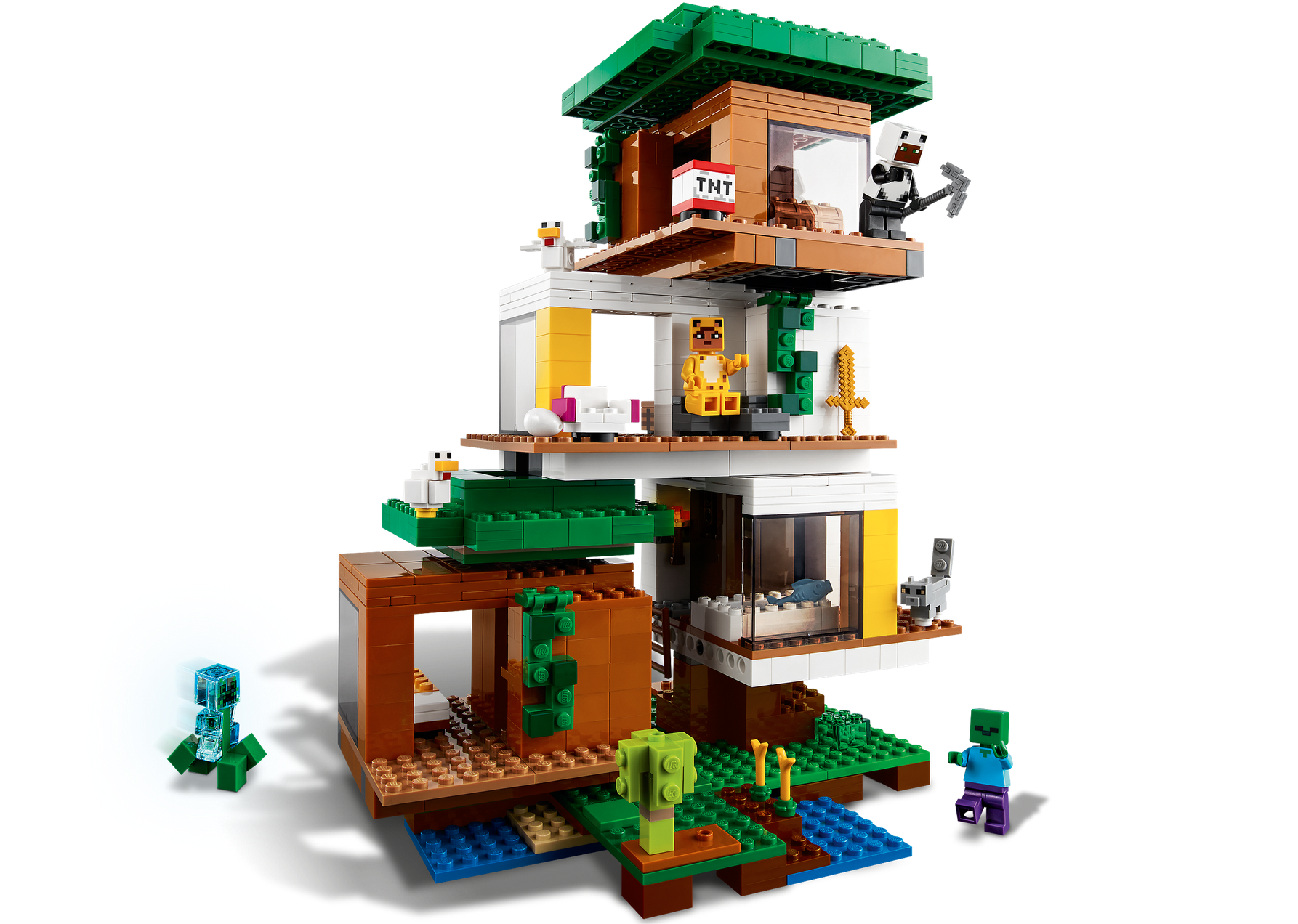 Sick of scrolling through Pinterest and Reddit for even more treehouse designs? I always find that a little break from building in-game can be helpful, and I also like the idea of practicing design in other ways. Useful for fans of all ages and even as a Minecraft decoration, this fantastic modern Lego treehouse is inspired directly by Minecraft. It includes over 900 pieces and can be configured in countless ways. The set includes a tree base, Minecraft accessories, figures, and more. Buy Here. 
Pros
Genuine Minecraft Motifs
Highly Customizable
Take a Break from Building in Game
Cons
Expensive 
Easy to Lose Pieces 
For more interesting readings check out: