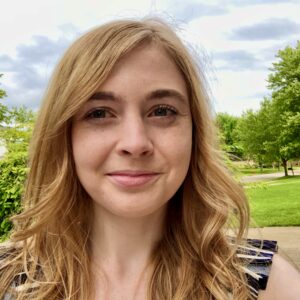 Latest posts by Erin Jamieson
(see all)
I have a confession. As much as I love Minecraft Towers and other impressive structures, I think gardens are some of the most useful and decorative ways to enhance the game. Whether you're looking for a way to enhance the game's aesthetics or a step-by-step template for making a giant garden you can use, I have you covered. 
From garden hacks to garden into, today I'll be covering my top ideas for transforming spaces larger and small into a garden oasis. In this guide, I'll cover some of the basic tips for how to plant a garden, what features you should add, and the best designs. Whether you're new to Minecraft or one of the most avid builders, it's time to get landscaping. 
Bottom Line Up Front Summary:  If I had to select just one garden design, it would be a simple but very functional basic vegetable garden. While I have more extravagant ideas in this guide, it's hard to beat the versatility of a basic blueprint. A vegetable garden comes in handy for Survival Mode and has the advantage of a design that can be undertaken by almost anyone. Plus, you can incorporate a vegetable garden within a larger and more ambitious garden template.
My Top Minecraft Garden Design Ideas
Best Garden Designs to Build in Minecraft
Now that I've covered the basics of making a garden in Minecraft, here's some inspo for unique designs. These designs include decoration planning tips, as well as links to easy to moderate step-by-step tutorials. One thing to remember is that even if you do follow one of these gardening blueprints, you can also add your style or additions to make it your own. 
Cottage Garden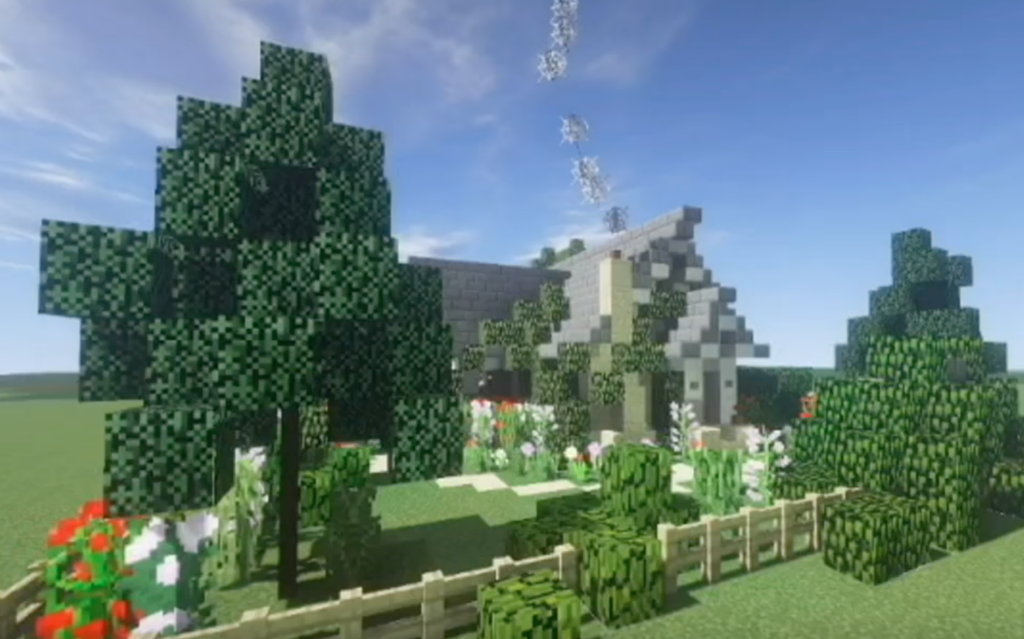 A simple cottage with a backyard garden is one of my favorite easy designs. The cottage garden has a slightly overgrown aesthetic but is still functional and organized. It should complement the cottage itself– I love crawling vines of the home. For the garden itself, a small space will suffice. Instead of walls or fences, outline your garden with hedges, with multiple open entrances or a single archway, formed by hedges. Inside the hedge, form a perimeter of multi-colored flower beds. I like a bed of complementary but different colors in the center of a garden. Alternatively, you could add a classic statue. The key is to use flower beds in your layout, but make them slightly off-shape. Very square or rectangular beds tend to have a more modem look. With a cottage garden, you want a well-loved but messy aesthetic. I also like planting a tree or two to frame the garden, but it's not a necessity. In this tutorial, the builder adds a fence, but I'd tweak it by either sticking with hedges or overgrowing vines. Watch the Tutorial Here. 
Main Materials
Building Time 
20 minutes to 1 hour 

32-minute tutorial 
English Garden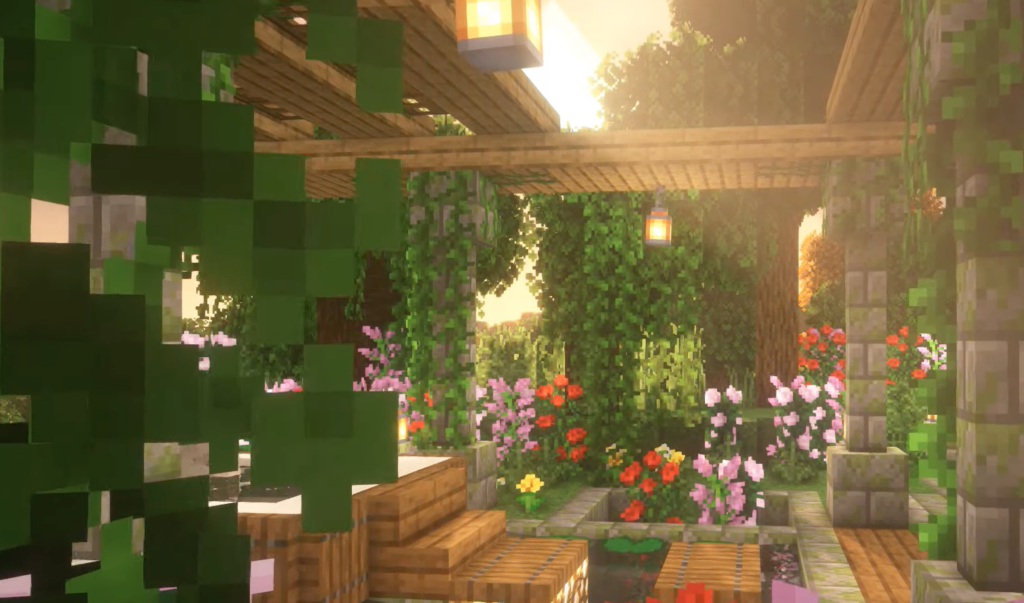 Granted, a cottage garden and an English garden can overlap in design, but a difference here is often the scale. While I like keeping cottage gardens fairly modest in size, with an English garden I go more all out. Statues and a bench add a touch of cozy elegance, alongside lush flower beds. You could make an English garden romantic with beds of roses. I also love mature trees, if that's practical. While there's often still a slightly overgrown aesthetic, I like my Minecraft English gardens to be a bit more organized than cottage gardens. A really beautiful idea is to add a gazebo or sitting area with hanging vines. Why not have it all lead up to a Secret Garden sitting area and bathroom? This tutorial is one of my favorites for inspo if you want to nail that lush, romantic look. You can mimic this design to extend to the rest of your garden. Watch the Tutorial Here. (Also Recommended: Victorian Garden). 
Main Materials
Crawling Vines 

Hedges

Wood/ Overhang

Statues

Flowers/ Roses 
Building Time 
30 minutes to 1 hour 

8-minute tutorial (Hidden Area Only)
Enchanted/ Mystical Garden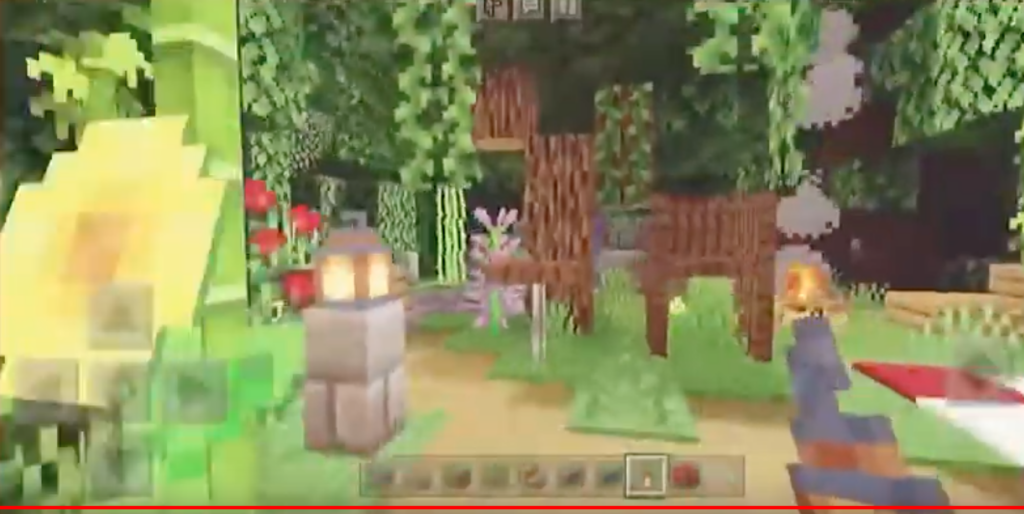 As a lover of iconic series like Lord of the Rings, I love the designs and different interpretations of enchanted and mystical gardens in Minecraft. You can go very elaborate with this. I'm amazed by builders who've managed to recreate Rivendell in Minecraft. But if you find a project like that a bit daunting, there are simple ways to still capture an enchanting aesthetic. For a simple enchanted or mystical garden, start by clearing space amid a lush forest. Gaps created within the trees are then filled with leaves to create a hidden allure. I love additions like a secret piston door, toadstools, and clover (found in groves and plains). Twinkling hanging lanterns custom trees add magical touches. This tutorial in particular is excellent for beginners because it provides clear step-by-step instructions. However, anyone can make use of the general concepts and expand and customize from there. Watch the Tutorial Here. 
Main Materials
Lanterns

Trees (Forrest)

Sticky Pistons

Leaves
Building Time 
15 minutes to 45 minutes

10-minute tutorial
Fairy Garden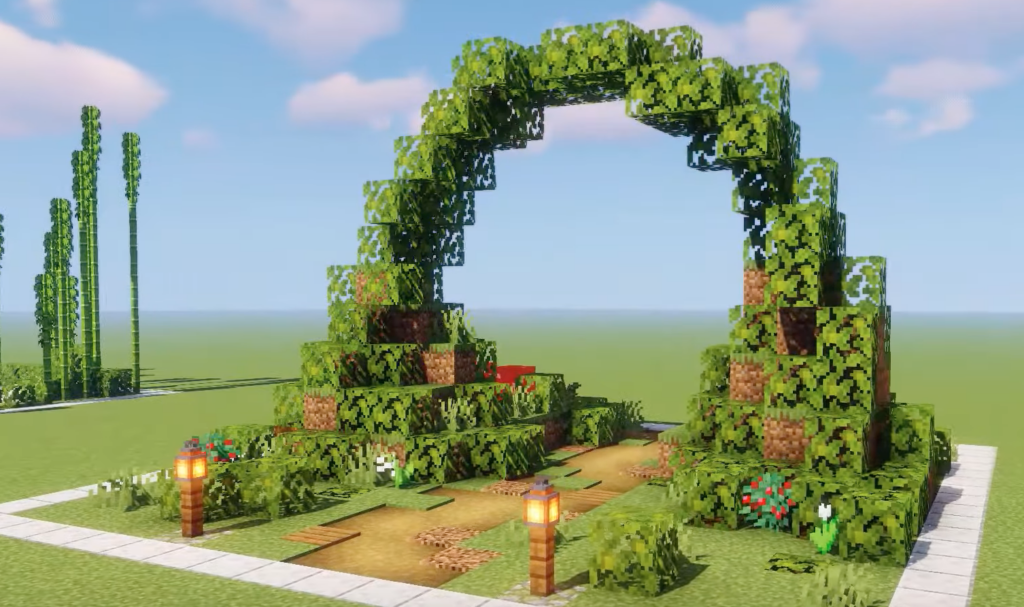 A fairy garden is distinct from an enchanted garden. Unlike an enchanted garden, which is secluded in lush forest space, a fairy garden is a tiny construction that can be located anywhere. I love the addition of fairy gardens to Minecraft parks or inside a small backyard garden. With a fairy garden, it's in the details. My favorite design is a leafy archway, flanked by sprigs of red and white flowers. Parallel lanterns light the way to a small dirt path. What makes this design so great is that it would even be perfectly laid out within a village or city. Simply pave the perimeter with a little sidewalk and set it beside a district with parks and other green spaces. I love the blueprint of this fairy garden design, but I'd add some more flowers to make a bigger statement. This is great for a smaller project with notable results. Watch the Tutorial Here. 
Main Materials
Toadstools

Spruce Fence

Lantern

Jungle Leaves

Flowers
Building Time 
20 minutes to 40 minutes 

16-minute tutorial 
Greek Garden (Villa)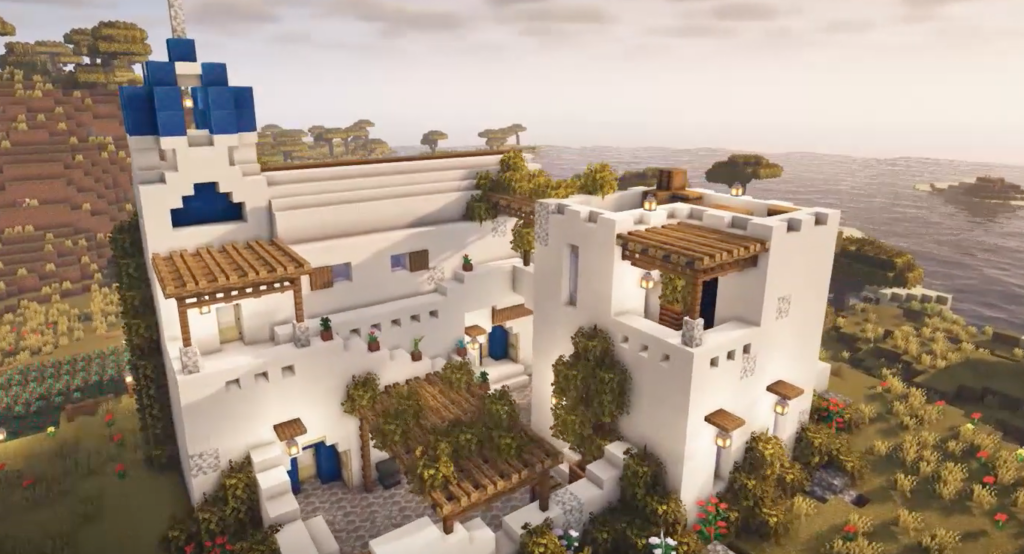 This doesn't cover just a garden, but an entire villa. I recommend this design for more advanced builders with plenty of space and time– but it's one of my favorite templates for incorporating a garden in Minecraft. A Greek villa should be situated on a lush cliff or hillside, preferably sloped and overlooking the sea. A series of gardens and vineyards line a pathway that leads up to the front entrance. I'd add a small side garden, or perhaps a patio garden with flower beds for a few finishing touches. Once your main villa is finished, plant shrubs and flowers, evenly spaced, on the slope leading to the entrance. White and red flowers coordinate well with the white and blue villa. There's a lot you can do to customize this, but I recommend fully watching the tutorial to get a proper layout established first. Watch the Tutorial Here. 
Main Materials
White and Red Flowers

Shrubs

Wood For Overhangs

Vines

**Villa Materials
Building Time (Includes Villa)
1 hour 30 minutes to 2 hours 30 minutes

52-minute tutorial
Hanging Gardens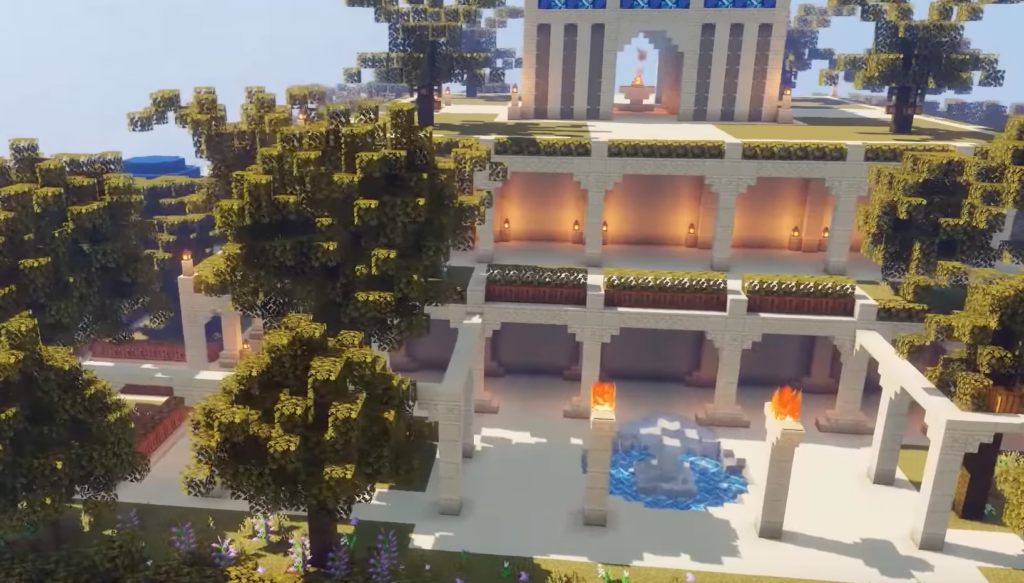 The Hanging Gardens in Babylon were listed as a World Wonder under Ancient Hellenic society. The legend does that they were situated beside the Palace of Babylon are crumbled during earthquakes in the 2nd century BCE. This iconic symbol has been recreated in Minecraft, and the design is downright impressive. You'll need a very generous, arid, and relatively flat land to start building. I recommend outlining the main structure and building four posts to get an idea of what goes where. The design requires ornate wall details, columns, archways, steps, and courtyard areas, which is where greenery and garden space comes into play. If you're able to follow the blueprint, you'll end up with a truly amazing design. However, this does take a great deal of time, effort, and finesse. It's also more of a timelapse style, so you don't have easy step-by-step directions. It's great for a challenge. Watch the Tutorial Here. 
Main Materials
White Stone

Concrete

Trees

Lanterns

Flower Beds
Building Time
2 hours+

10 minute time-lapse
Royal Gardens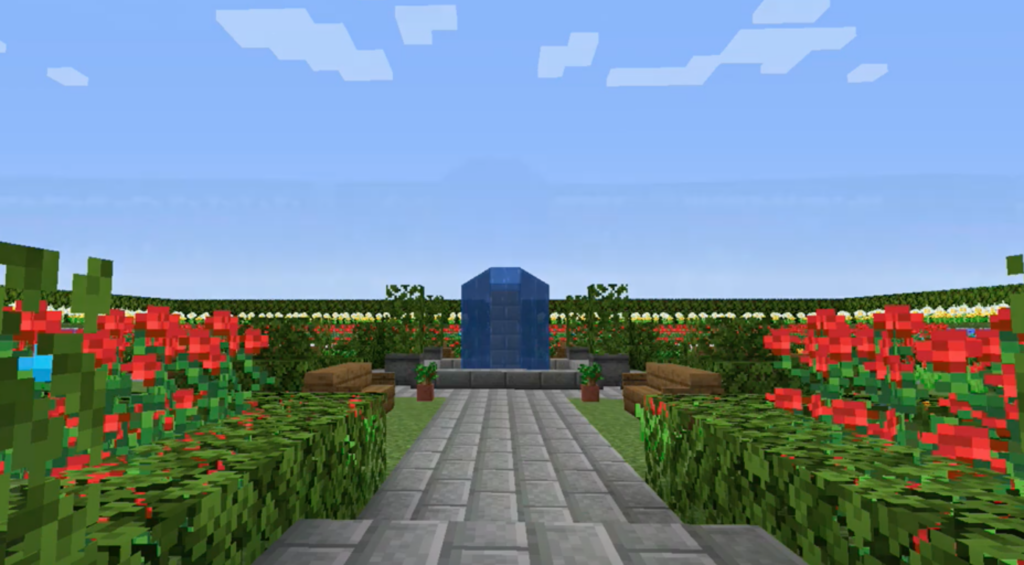 Trust me when I say there are many ways to interpret how to make a royal garden in Minecraft, and all have their merits. I've seen a rainbow royal garden, as well as an Asian-inspired royal garden pagoda. When I think of a royal garden, I think about lush landscaping and a central focal point. That may include a series of statues or even a natural landmark like a waterfall. The goal is to select flowers, shrubs, and trees that provide a seamless and unified look. Another one of my favorite designs is a simple royal garden, complete with rows of roses and an elaborate fountain. 
Main Materials
Varies by Design

Flowers

Statues

Fountains

Stone
Building Time
Vegetable Garden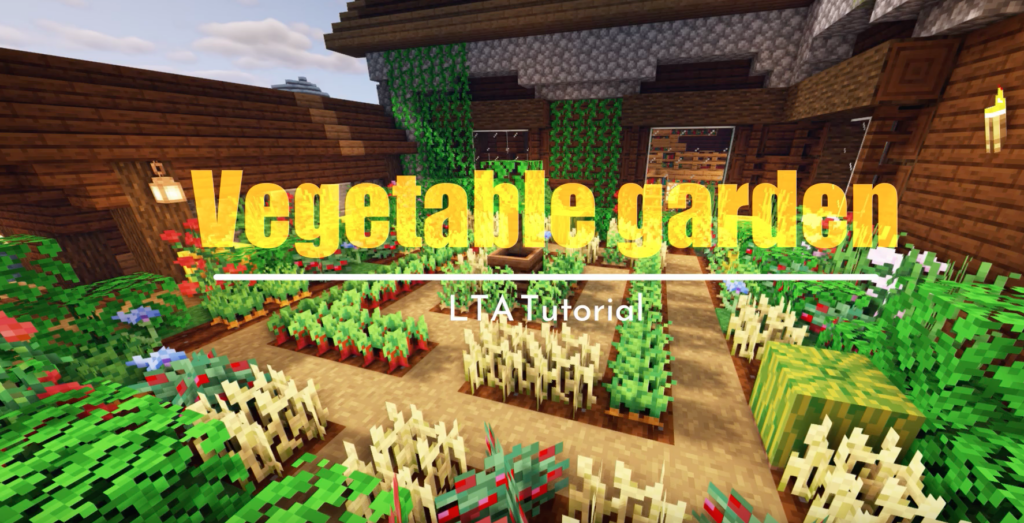 Not sure where to start? Don't underestimate the value of a simple vegetable garden. This is my favorite option for a practical and easy-to-follow design. You can play with the template and make your vegetable garden either as small or large as you'd like. Once you know the basics of how to plant in Minecraft (see my advice at the top of this article), it's a breezy, intuitive building process from there. Not only is this nice to have in Creative Mode, but it's also quite useful in Survival Mode if you aren't into a full-fledged farm. As displayed by this under-10 minute tutorial, a simple and clean blueprint is all that is required. Organize by beds so you know what crops are where. Make sure you have a watering can or other source handing, as well as fertilizer. Watch the Tutorial Here. 
Main Materials
Any Seeds, Plants Desired

Watering Source

Light Source

Wall or Fence 
Building Time
10 minutes to 30 minutes

7-minute tutorial 
Zen Garden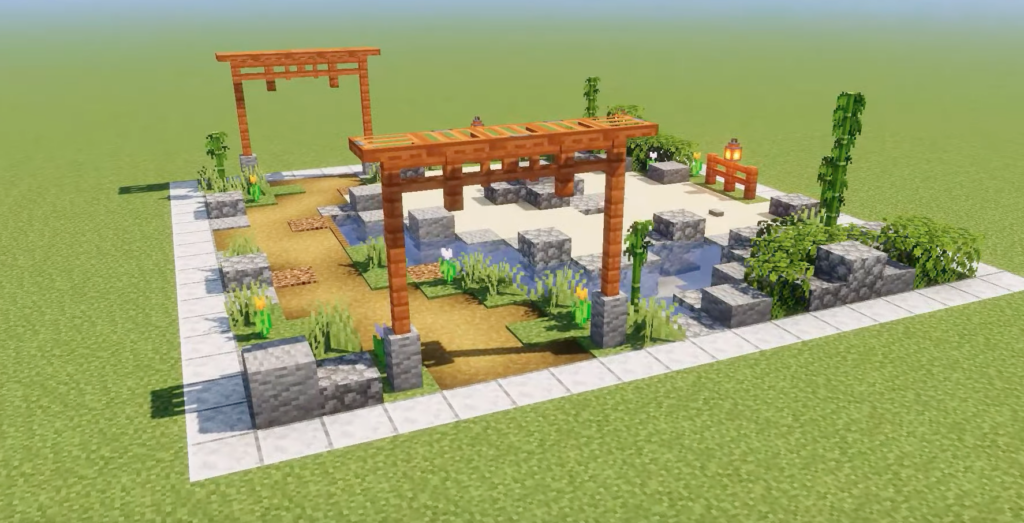 Do you love a simple, clean look and don't have a ton of time to build? One of my favorite design ideas for a Minecraft garden is a Zen garden. A Zen garden is distinguished by sand in the main area, flanked with red or wood archways reading in and out of the garden. Balance and proportion are very important for a Zen garden. I recommend mapping out an exact blueprint of your space so both sides are evenly decorated. A Koi pond also would not look out of place if you want a splash of color. Simple, distinct, and easy to build, I see why this is a favorite design for Minecraft gardens. Watch the Tutorial Here. 
Main Materials
Sand

Gravel

Red Stone

Wood

Seeds
Building Time
20 minutes to 30 minutes

15-minute tutorial 
Nether Garden Designs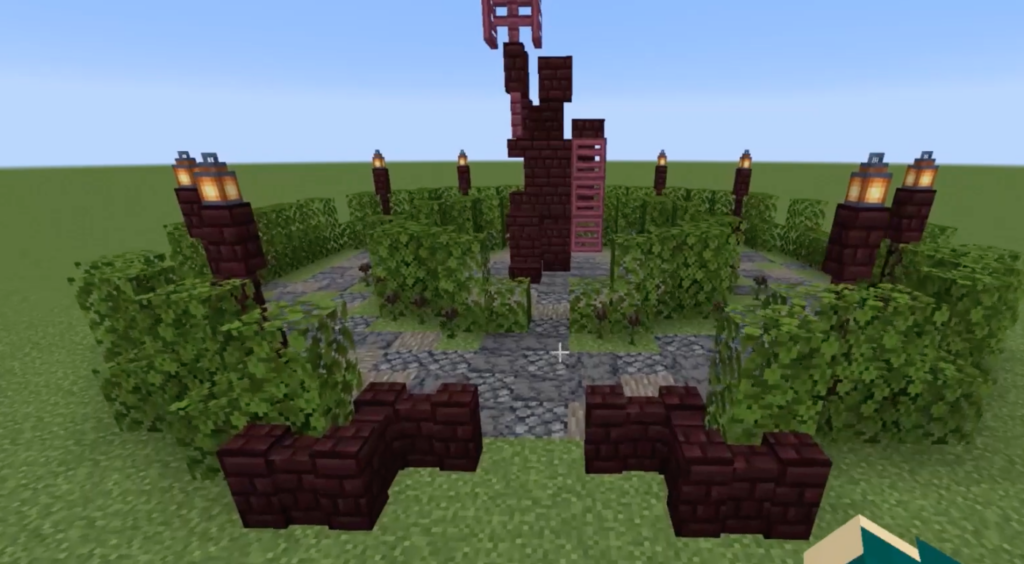 The Nether Update expanded a lot of options– and more designs than I think many realize. Even now, it's having a creative impact. That extends to gardens. Nether gardens take the classic concept of a garden layout. Typical plants are replaced with alternative structures. Cobblestone, brick, and concrete blocks are constructed into innovative geometric shapes. What I love about these designs is that, despite the somewhat minimalist approach, they're punctuated with color. There are no hard and fast rules, of course. You can achieve an out-of-this-world aesthetic by playing with structure and form. Less is more. Watch the Tutorial Here.
Main Materials
Stone
Concrete
Unique Plants
Gravel
Red Stone
Building Time
20 minutes to 40 minutes (for all, 10 minutes/ design)
11-minute tutorial
Classic Greenhouse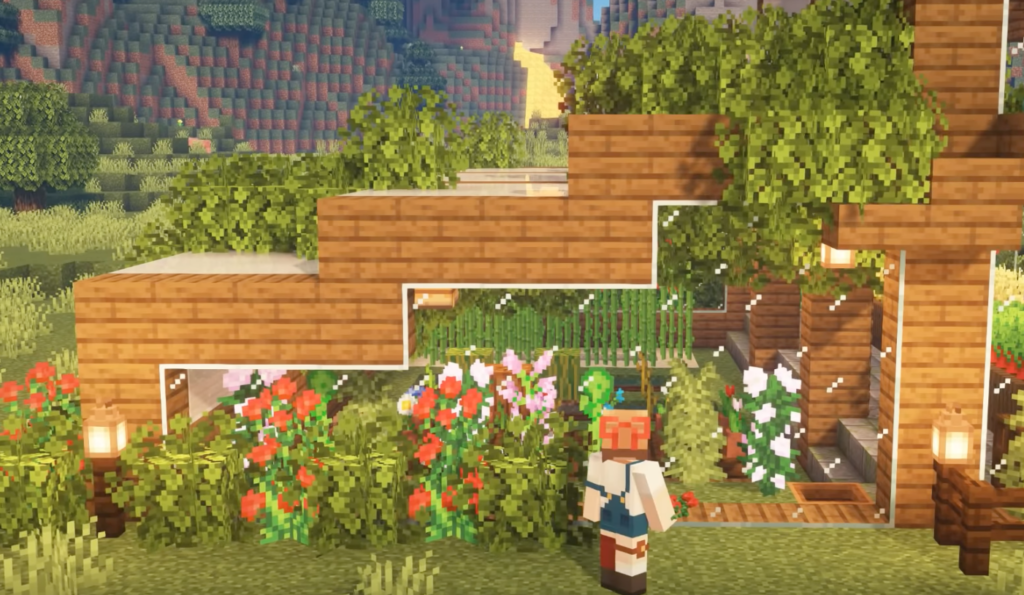 I wanted to finish off my recommendations with something I love even outside of Minecraft: a classic greenhouse. It's a family tradition to tour Krohn Conservatory and greenhouses near my home, especially for Christmas and the Spring butterfly exhibits. I also spent some time at the greenhouse where I went to college, and my late grandmother was an avid gardener. So being able to create a real greenhouse is not only handy for Survival Mode but also quite meaningful. You don't have to make a greenhouse large or elaborate. Glass window panes allow natural sunlight to stream in from all sides and angles. A slightly slanted roof provides a modern and realistic structure. Add plant beds, classified in rows by plant type, and make sure you have a water source nearby. Watch the Tutorial Here.
Main Materials
Glass Panes
Wood Planks
Stones
Water Source
Gravel Path
Plants/ Seeds
Planter Boxes
Building Time
1 hour to 1 hour 20 minutes
28-minute tutorial
Frequently Asked Questions
Final Thoughts
Some of the best design ideas in Minecraft don't require a complicated template or blueprint, and that's true for gardens, too. As much as I appreciate an elaborate Asian garden, I also think a simple veggie garden can add a lot. Another fun idea? Combine some of these designs and make them your own. You could even take the basics of planting a garden and create a design based upon a famous garden in history, a favorite place, or a film or book. The possibilities are endless, and that should be no surprise to any Minecraft player. 
Remember, you can also play with terrains, including a jungle/ tropical garden or even an underground garden or nether garden. 
For more interesting readings check out: