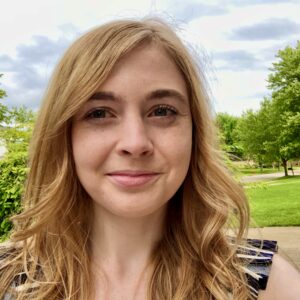 Latest posts by Erin Jamieson
(see all)
One of my favorite things to do in Minecraft is building, whether that's in Creative Mode or trying to ward off invaders like mobs and zombies. Of all the things you can build, a tower will take you far in Minecraft. Not only are towers impressive from a design standpoint, but they can also serve as a central point of defense. At the same time, I understand how daunting it can be to start building a tower without a template. That's where this guide comes in. 
In this guide, I'll share my favorite designs and ideas for impressive and versatile towers in Minecraft. Whether you're looking to build an easy, simple tower or an elaborate fantasy tower, I have you covered. I'll start with the basics of building a tower in Minecraft, then show you some of the top designs. 
Bottom Line Up Front Summary:  If I had to select just one tower design for Minecraft players to build, it would be the Castle Tower. This tower features a timeless design, is easy enough to build for newer players, and can solve many purposes, such as a defense tower or a lookout tour. 
My Top Designs 
How to Build a Tower: Basics

Before I delve into complex tower designs, it's essential to get the basics down. As a template for must-haves, I recommend focusing on the structural base, roof, entrance, interior, and staircases. You'll also want a source of light. Windows bring in natural light. Crafting a lantern or torches likewise is important for making the most of your towers. Once you get the basics down, you can experiment to your heart's content with more complex Minecraft tower designs. 
Base
The tower base is critical to any Minecraft tower design. Before you even start building, though, you need to gather materials. I recommend mostly spruce and oak wood, as well as brick and cobblestone. You'll need other items for the interior and for decorating, but stone, brick, and wood will all be needed.
You should start by finding a clear and marked center point for your tower. You can mark using a torch. Count by diagonal blocks and place walls on each corner of your square or each exterior point of your circle. I recommend placing a woodblock and two stones to hug those blocks on each exterior point. Place water sources outside of your circle or square outline. 
Continue to build upward, evenly on sides, and slowly connect the walls. 
Entrance   
Before you start building up, of course, you want to make sure you designate an area for an entrance. I recommend including water sources as well as planting seeds near your entrance, should you want to make this tower for anything like supporting farm work. A pathway leading up to your entrance will make it more inviting and easier to get to. You can dig into the ground, then pave it with either concrete slabs or cobblestone. Crafting lanterns for your entrance will provide a welcome source of light. 
Roof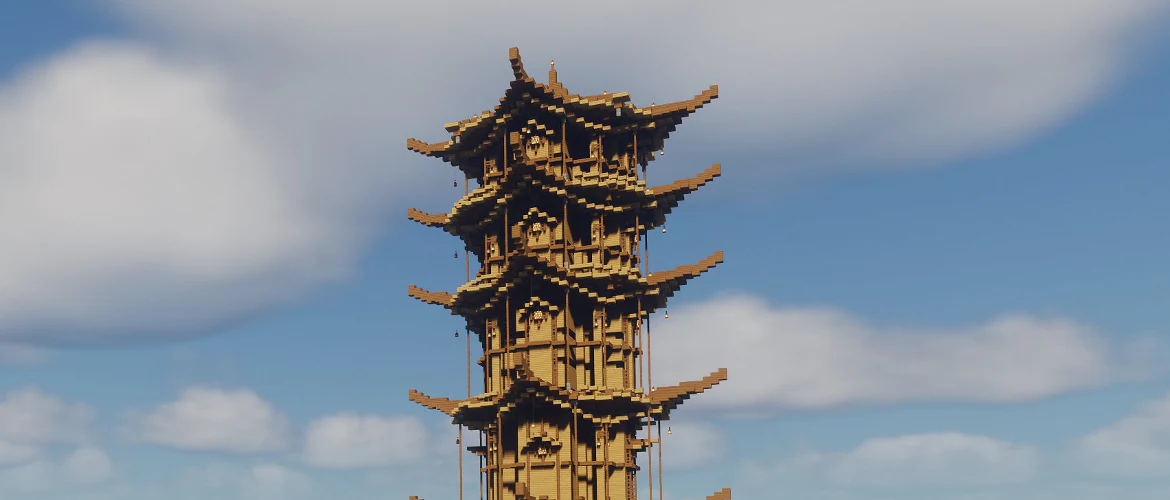 I admit: a roof has always been a challenge for me in pretty much any game where you build. But a roof is an integral final touch to a tower. A slight overhand to a roof adds dimension. Adding turrets and unique corners to the top of your tower make a roof more unique. A variation on roof height– for instance, lowering the roof height on one side– creates more interest. When you have different eyeliner levels on a roof, you're going to have a more interesting roof.
 I also love the idea of adding windows, especially for a tower. It's a nice lookout and adds some style. Windows can be created using slabs to heighten them or in line with the roof. Cobble slate can add a bit of texture. Have fun experimenting with different materials. Building out from the center first is easy. Try for a simple roof if you are new to it. 
Spiral Staircases
With staircases, I'd keep things simple. You want them to be functional and get you from one floor of the tower to the other. Of course, you can also use ladders as well. A basic spiral staircase is built around a single central block or slab. Use slabs for a spiral staircase– it's more difficult to use stairs. Place a block, then continue to go up a half slab before placing the next block. You continue this process as necessary. You may use stairs, but it's slightly trickier. If you want a wider staircase, you can go out two blocks on either side and repeat a similar process. 
Minecraft Tower Design Ideas
Here are some of the most popular– and my favorite– tower designs for Minecraft. I've included a mix of easier towers for beginners and challenging designs for the most avid builders. My ideas are meant to showcase the wide range of Minecraft players. Some towers are great for supporting strong defenses in Survival Mode. Others are meant to stretch your building chops in Creative Mode. Since some Minecraft players play for realism and others want to escape into a fantasy world, I've included a variety of styles. From Minecraft towers inspired by popular franchises to sleek modern towers, it's time to build. 
Avengers Tower 
If you're a huge fan of the Avengers and are skilled at building towers, this is a unique and excellent option. One of the most popular designs I recommend trying is the Stark Tower from Spiderman Homecoming, This tower blueprint was first introduced to the community in 2017 and remains one of my favorite designs. Introduced by TSMC Designs, creating this tower is not as daunting as it seems. You'll need concrete, stained glass, and stairs– and that's almost all you need. The base of the tower can be decorated with additions of your choice. The tower fits in a 30 block by 19 block area.  The design starts with a diagonal build that progressively adds more blocks with each level. It should take you roughly an hour to build if you build quickly, or two hours for slower building.Watch the Tutorial Here.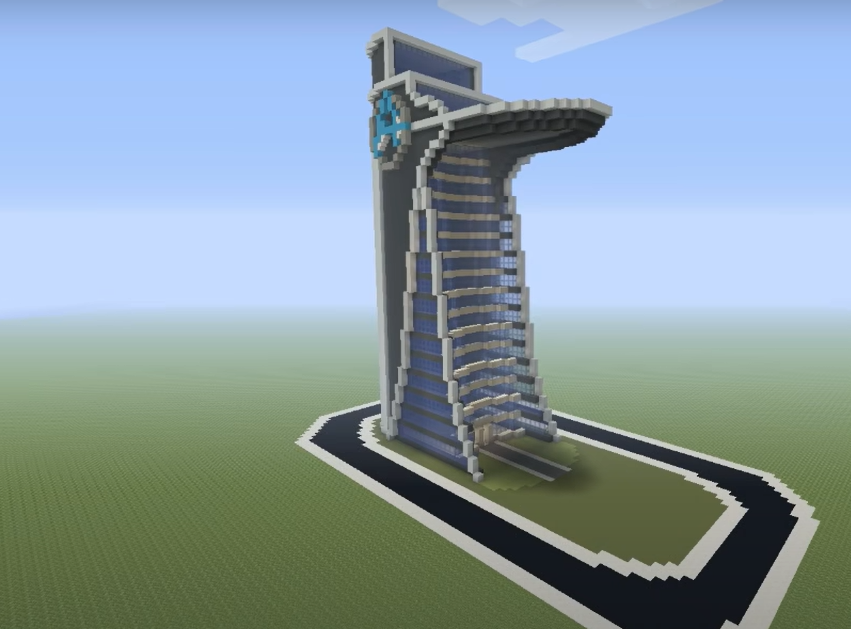 Main Materials
Building Time 
50 minutes to 2 hours 

48-minute tutorial 
Alchemy Tower 
Maybe it's my love of Harry Potter and Lord of the Rings, but I love adding touches of magical elements to games. An alchemy or wizard's tower adds a unique, mystical structure to Minecraft worlds. Taking the time to add lush gardens and landscapes around the tower is ideal.  What I love about this design is you can make it smaller and more simple, or large and grand. The alchemy and wizard's tower is defined by multiple turrets, distinct windows, and multi-dimensional rooftops.
 Unlike many towers that favor symmetry and balance, here the emphasis is on playing with conventions, curves and providing that magical look. Invest in lanterns, greenery, and built with stone or cobblestones slabs to provide a signature look. It's can be used as an enchanted tower, and it does have a fantasy aesthetic.  Watch the Tutorial Here.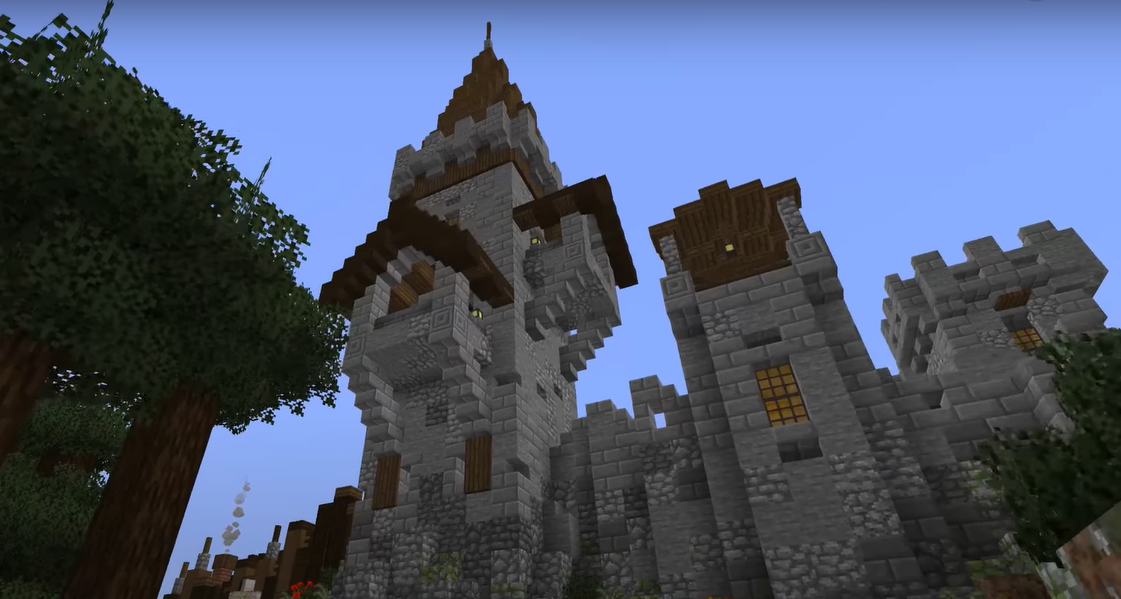 Main Materials
Stone 

Wood (Any)

Chests

Landscaping 
Building Time
45 minutes to 1.5 hours (depending on size)

29-minute tutorial 
Castle Tower
If you love the alchemist's or wizard's tower, chances are you'll love this classic tower design. Of all the tower designs I've come across, this may be my favorite. It's classic, timeless, and can easily be adjusted to a scale that's right for you. It's a fairly straightforward design, so even if you're fairly new to building towers in Minecraft, it's a good option. I recommend using stone as your base, supplemented with granite and simple spruce stairs. Another thing I love about this blueprint is that it can be used in isolation or, of course, attached to an impressive castle. All in all, I think you'll get a lot of use out of this template– whether you're building in Creative Mode or Survival Mode. Watch the Tutorial Here.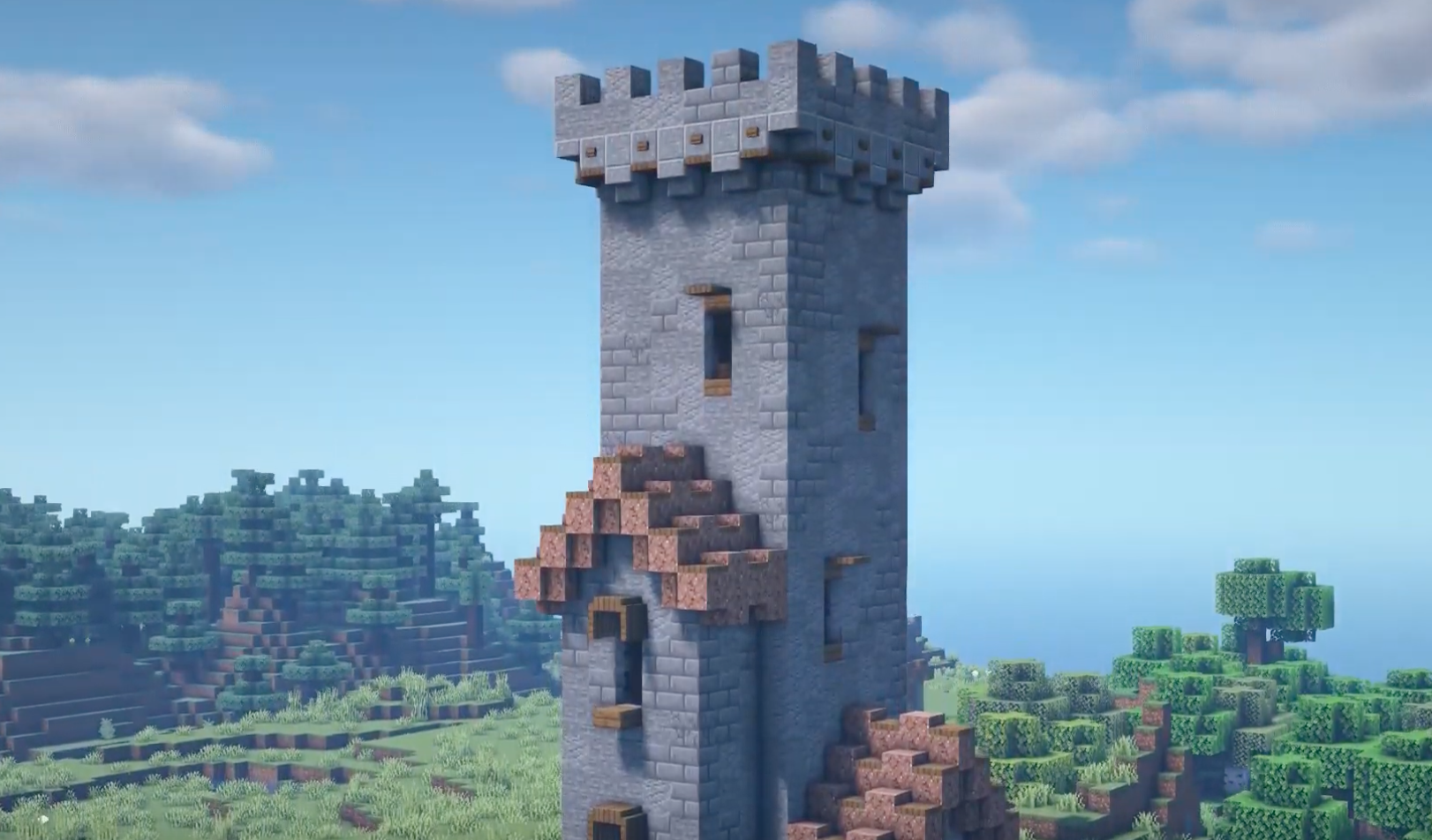 Main Materials
Granite

Spruce Stairs and Trapdoors

Polished Andesite 
Building Time
10-30 minutes 

8-minute tutorial 
Eiffel Tower  
The Eiffel Tower is not only of the 7 Wonders of the World– it's also not too hard to build in Minecraft. The key is to make sure you start with a solid foundation, with proper spacing and planning. From there, building on up isn't too difficult, but I recommend zooming out to get a better perspective of what you're doing. Depending on your interpretation you can build a shorter or quite grand version of the Eiffel Tower. So long as you have its signature shape, it's going to be recognizable. You could even use it as a foundation to build an entire French-themed world. There are several blueprints and step-by-step tutorials to follow, from as little as 15 minutes to over an hour. My favorite is an older video, but it's one of the few that includes audio direction. Watch the Tutorial Here.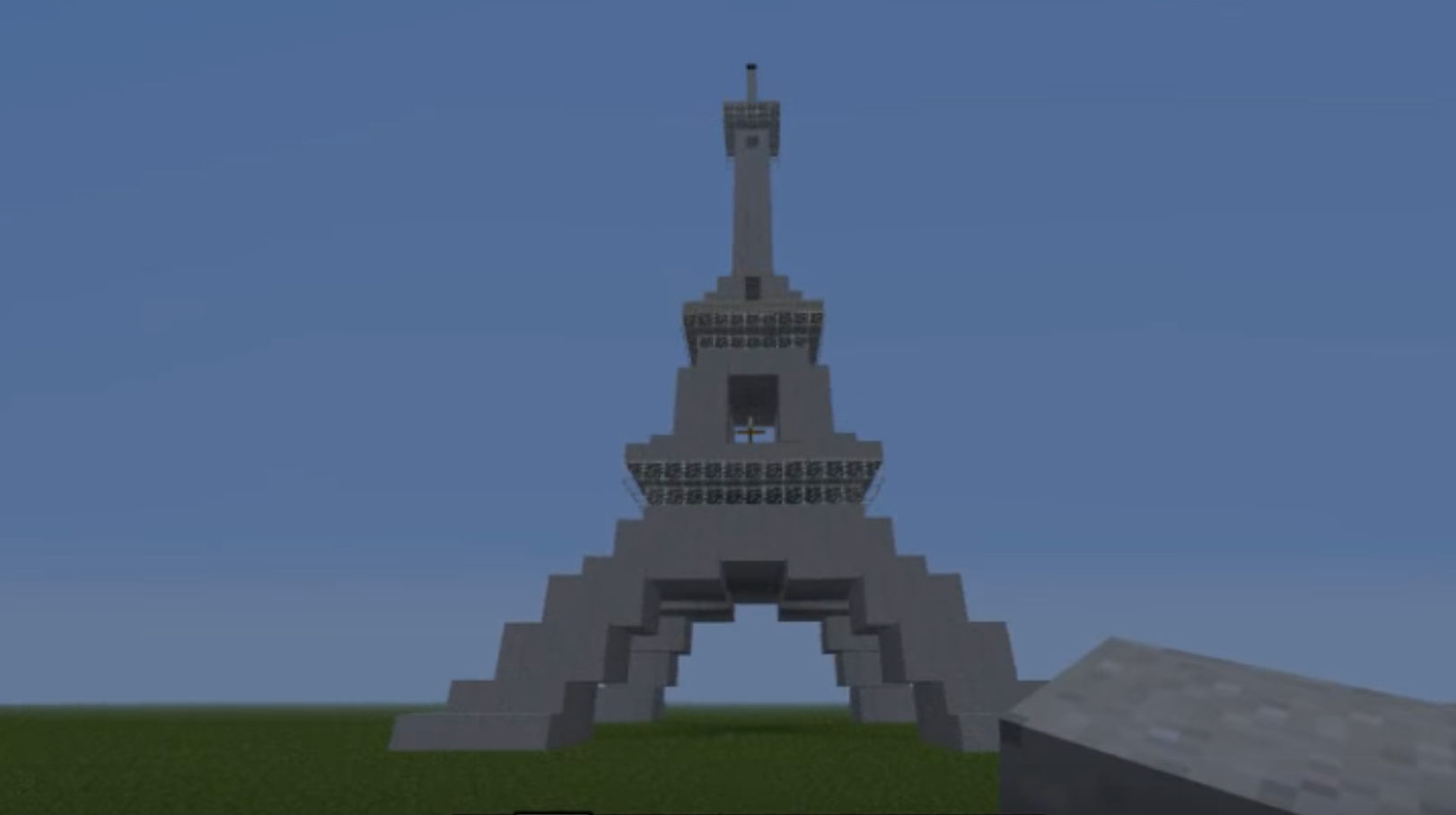 Main Materials
Sandstone

Cobblestone

Sapling, Others for Decor 
Building Time
15 minutes- 1 hour+

20-minute tutorial 
Futuristic Tower
As much as I love history and fantasy, I also have a love for pushing things to new heights. Knowing how to build a futuristic tower in Minecraft can help you do just that. A twisted helix exterior is a breathtaking statement and will make this tower build stand out from others. If you're comfortable with spiral staircases and working curves and angles, give this design a go. You'll need to mark out your plan with three circles: two of an equal side that is connected with a 'bridge' and an outer circle for the left circle. Making a plan and marking equidistant space before you start building is essential. While I often encourage playing with the design, with this tutorial I'd stick with the step-by-step plan. You'll start by scaffolding the center, building up and out gradually as you begin to make a curve. The key is to work methodically, trimming excess blocks as you go. This is a build best done in one sitting if possible so that you don't lose track of what you're doing. Watch the Tutorial Here.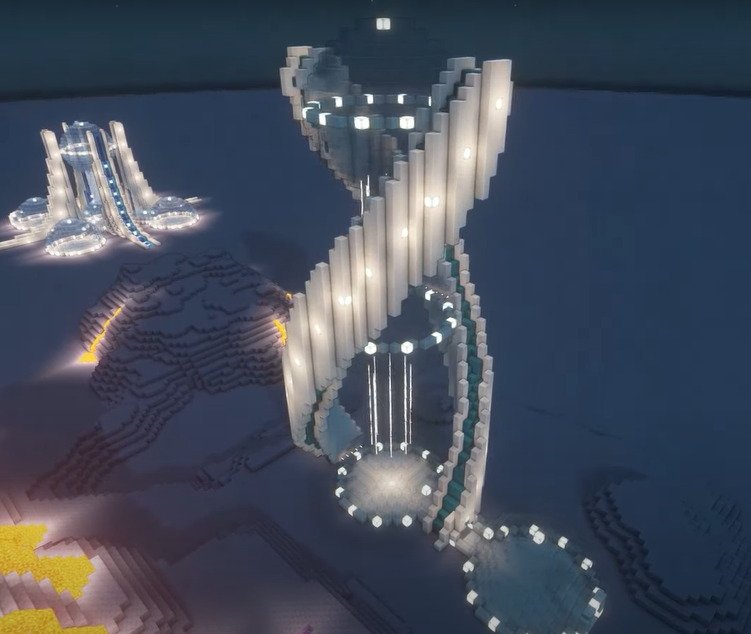 Main Materials
Birch or Other Wood 

Painted Blocks 

Concrete or Quartz
Building Time
1 hour to 2 hours

50-minute tutorial 
Japanese Tower 
Something I love about Minecraft is how many diverse worlds and locations you can create. Building a Japanese tower takes your designs to a new level, without posing the great difficulty or extensive time required to build other unique designs. The key to building a Japanese tower isn't all about the tower. Lush landscaping, including pink blossom trees, and even adding features like bridges, ponds and fountains are the finishing touches this needs. For the tower itself, you'll start by laying out a square stone platform. A 6 by 6 is a nice place to start. You'll continue to build that stone platform up several levels to form your base. Adding hedges to your base is an excellent touch. You'll need stone stairs leading up to either side. From there, you'll build your floors. Simple wood floors are given a perimeter with fences and Redstone archways. It's a fairly easy tower. Watch the Tutorial Here.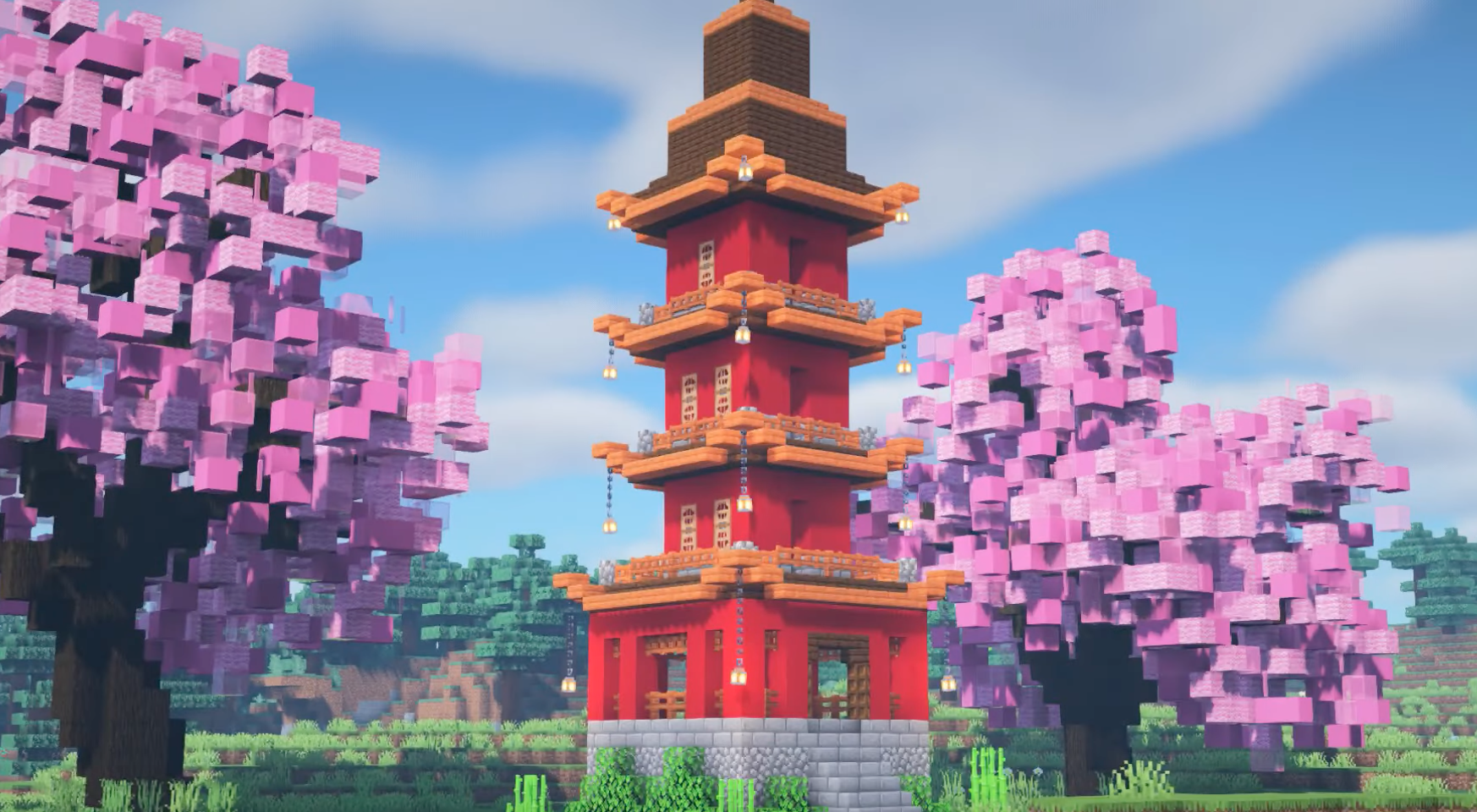 Main Materials
Bamboo 

Red Stone

Stone Slabs
Building Time
15 minutes to 45 minutes

12-minute tutorial 
Lighthouse/ Lookout Tower 
You can build a modern lighthouse, but one of my favorite designs is a medieval lighthouse built in Minecraft. Now with a lighthouse, the ideal is to build it near a beach and overlooking the ocean. This is both practical and scenic. You'll start by building a circular, stone brick base overlooking the ocean. If you're building on a cliff, it's going to improve its use as a lookout tower. The higher you build, the thinner the tower becomes. It should taper off gradually, with each level. The goal is to stay focused and build slowly inward– planning ahead of time how tall you want your lighthouse to be. The most challenging part of this build is creating cutouts for windows at each level, along with the cone-shaped wooden roof that gives this a more medieval aesthetic. It's a project that takes patience but is well worth it. Watch the Tutorial Here.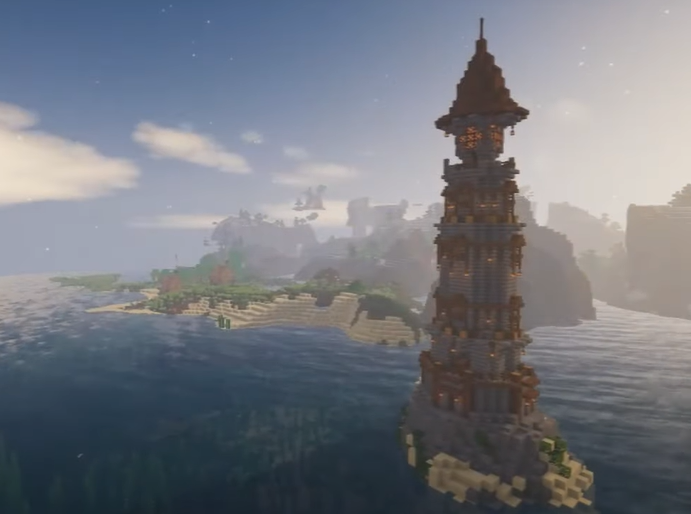 Main Materials
Stone Brick 

Wood of Choice 
Building Time
40 minutes to 1 hour 

34-minute tutorial 
Leaning Tower of Pisa
Now I admit: when I first considered the Leaning Tower of Pisa for a build in Minecraft, I was intimidated. On one hand, there's a certain simplicity to the blueprint. But being able to showcase its unique, barely-tilting design is another thing entirely. The key is simply to be systematic, move over a few blocks for each level. Each level is given columns and archways. The top two tiers are given metal fences, if you so choose, that add to its finished aesthetic. Begin by drawing out your circular base in a clear field, on flat terrain. You'll need plenty of lanterns to hang inside every level. Each level requires an overhang with the archway. You use that overhang to build the next level, hanging slightly off the side to gradually showcase a leaning effect. Watch the Tutorial Here. 

Main Materials
Building Time
30 minutes to 1 hour 

20 Minute Tutorial 
Nether Tower
There are countless design options for a nether tower in Minecraft. Some like a practical Nether Outpost while others add cultural touches with a Chinese Nether Tower. One of my favorite blueprints, however, is a Hanging Tower in the Nethers. This is a more challenging tower to build at first, but once you get used to building hanging or suspended towers, you'll see it's not all that different from other Minecraft towers. This build is intended to explore the 2021 caves update. It has an ethereal sense to the design, consisting of a series of Blackstone slabs and walls, suspended by chains. Stone, sea lanterns, and trapdoors will also be needed. Each turret is a regular shape– the key is planning out your spacing. You don't want them so close you can't navigate, but too far will make them appear disconnected. Watch the Tutorial Here.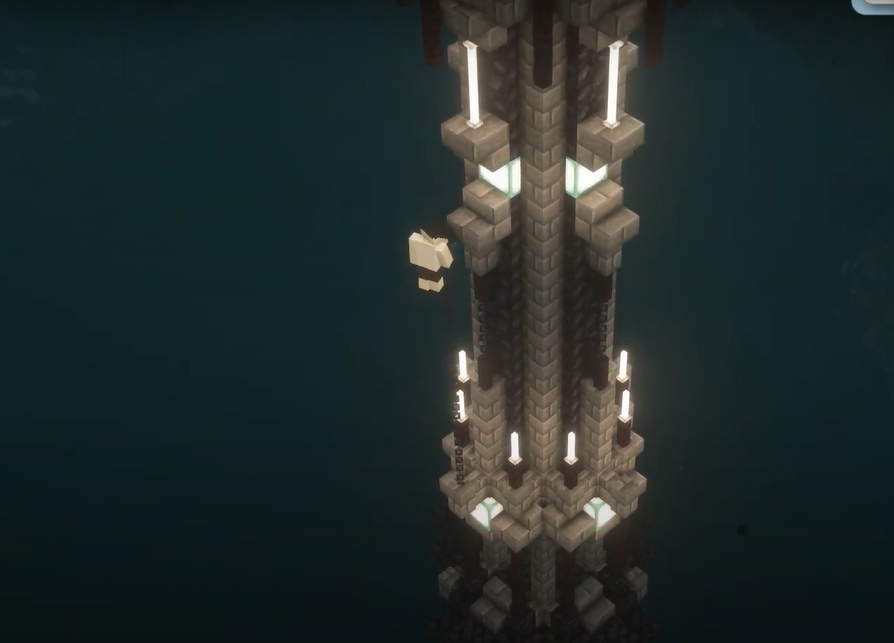 Main Materials
Blackstone Slabs

Stone Slabs

Sea Lanterns 
Building Time
15 minutes to 45 minutes 

12-minute tutorial 
Tower of London Bridge 
I want to round off my list of Minecraft tower ideas with a historical design. The Tower of London is a formidable, striking tower that you can build for Creative and Survival modes. It's such a popular design that players sometimes upload vlogs and movies like A Day in London. If you want a London-based settlement in Minecraft, the Tower of London is a must. (I also recommend Building Big Ben). The question is: what is the best approach to building one? The Tower of London has few blueprints, and most players base it on real blueprints. You can watch a Tour of the Tower of London, but a good start is a Tower of London bridge if you're overwhelmed. This is an easier build, starting with a concrete base in the ocean. The bridge measures 15 blocks wide and 20 blocks wide on the second part. It should be about 12 blocks above water level.  The key is to lay out a framework first. Watch the Tutorial Here.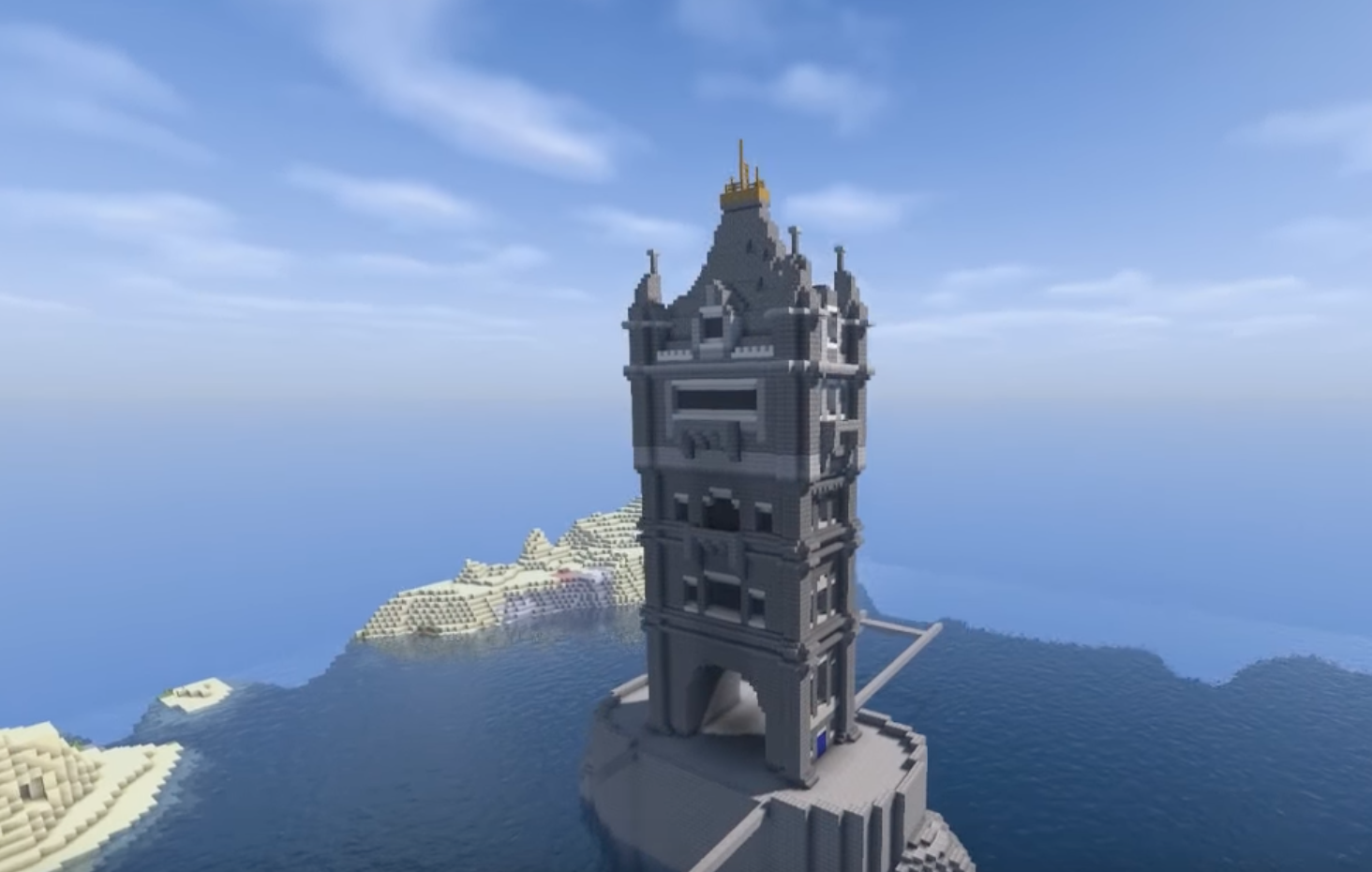 Main Materials
Building Time
30 minutes to 1 hour 30 minutes 

22-minute tutorial (2 parts)
Frequently Asked Questions 
Question: What is the big tower in Minecraft?
Answer: This is tricky. On one hand, you're limited to around 255 blocks in Minecraft. However, you can make a taller tower by digging and starting underground. That isn't to say that players haven't pushed limits in creative mode, either. The largest known skyscraper tower consists of over 40,000 blocks in total. Meanwhile, while far from the tallest, the largest known building in Minecraft ever is a pyramid that was made with over 2.6 million blocks. That's a grand Minecraft building project if I ever heard of one. 
Question: How do I find a pillager tower?
Answer: A pillage tower or outpost is home to pillagers, as the name implies, as well as a loot chest. The objective is to kill the commander to unlock the ability to spawn raids in towns. Outpost randomly generates in the following biomes: plains, desert, savanna, taiga, snowy tundra, snowy taiga, and sunflower plains. Of these, I'd most recommend either plains or deserts first. With flat terrain, who can more quickly spot a tower vs in a place with forests.  Search high as possible Bedrock Edition outposts are near towns, but never right by villages in Java.
Question: How can I stop pillagers from spawning near or in a Minecraft tower?
Answer: You should make use of your tower by improving its defenses. If you're overtaking a tower, you must explore it thoroughly first. What tends to happen is that players miss aggressive mobs. The next step is to take away any sand and grass blocks directly surrounding the tower. This is where pillagers and other enemies tend to spawn. I advise making sure the tower is well-lit to improve your visibility. 
Question: How do you build a Lord of the Rings tower in Minecraft?
Answer: As you might imagine, it's very popular to build towers inspired by Lord of the Rings. The good news is that most are straightforward and simply take time and finishing details to complete. The best ones to try are the Tower of Isengard and Barad Dûr. 
Final Thoughts
Knowing how to build a tower in Minecraft is one thing. Taking it to the next level with remarkable designs in another. Whether you're hoping to build a modern tower, Nordic tower, guardian tower, or tower in the jungle, your true limits are your creativity. Playing with terrain types can also challenge your skills as a builder as well as elevate a simple tower design. Try out an underwater tower or even challenge yourself to Build the Underwater Kingdom. If you want a smaller-scale, but still exciting tower, try Turning an Overworld into a Volcano. 
Final Recommendations: Basic Minecraft Recipes for Your Towers
You can make the most impressive tower in Minecraft, by without some basic recipes it isn't going to be fully functional. Doors and staircases are key for accessing every floor of the tower. Light sources, like lanterns, torches, or even Jack O'Lanterns are also key. You can make a tower useful by adding books, food and more. But I also know that it can feel overwhelming where to start. That's why I recommend you read the Best Things to Make in Minecraft Guide. This guide tells you how to make basic recipes for countless useful items and features for your tower. It's even helpful if you're just trying to make it through Survival Mode. Without some of these basics, it's hard to play or build to your full potential in Minecraft. 
For more interesting readings check out: