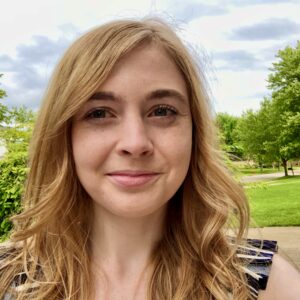 Latest posts by Erin Jamieson
(see all)
When I first started getting interested in Minecraft, I was immersed in ideas for fantastic builds, from Minecraft Towers to ways to customize my world. But one thing that so many of us underestimate is an essential: beds. And there are more creative bed ideas and designs than you probably ever considered. 
I'm excited to share with you my favorite Minecraft bed designs but also hacks. I'll tell you how to work through known Minecraft bed glitches, the top benefits of beds in Minecraft, and the best recipes, from bed colors to unique designs. Get comfortable and add a unique aesthetic to a house or loft. 
Bottom Line Up Front Summary:  If I had to select just one bedroom design, it would be the loft bed. This bed is a little tricky, but still easy to craft. I love how it is at once decorative and functional. Of course, it's customizable so you can tweak the style for different types of bedrooms. 
My Top Picks
Basic Bunk Bed:

Best Multi-Capacity Bed

Bunk/ Loft Bed:

Best Loft Bed

Canopy Bed:

Best Traditional Bed

Emoji Beds:

Best Pattern Beds

Kawaii Beds:

Best Cute Beds

Modern Bed:

Best Minimalist Beds

Backboard Bed: Best Backboard Beds
Bed with Aquarium: Best Nautical Bed
Car Bed: Best Kid's Bed
All-Black Bed: Best Gothic Bed
Minecraft Bed Design Criteria
What I like to do is start with the basics for selecting a great Minecraft bed. This tells me what the very best designs are. In other words, they build upon the basic bed recipe (wool and wood planks) but do something different.

Plays with a Basic Bed Recipe 
Since Minecraft beds are typically single/ twin size, not queen or king-sized, it can seem like there aren't that many options But what I love is that you can play with colors and designs. My favorite design incorporates the basics but plays with many colorful dyes (see all the options below!). I want to select something that's both useful and unique.
Plays with Color and Patterns
What colors and patterns do I want to see? I want to see designs that use all of these fantastic dyes. I want to see the creativity of Minecraft stretched, and I want to see modern patterns like emojis, but also a play with complementary and contrasting colors.  Those dyes, listed below, show how much work goes into a multi-colored design. But it also means I expect a range of colors within community designs.
Dye Color
Source 
Blue Shades

Blue 

Pale Blue 

Blue-Green

Cornflower, Lapis Lazuli 

Orchid (Blue) 

Combine Blue & Green Dyes

Brown and Black Shades

Cocoa Bean

Ink, Dead Rose

Gray Shades

Black + White Dye

White Tulip, Azure Bluet, Grey+ White Dye 

Green and Yellow Shades

Smelted Cactus

Smelted Sea Pickle/ Green & White Dye

Sunflowers, Dandelions 

Pink and Purple Shades

Tulip, Peony (pink), White & Red

Allium, Lilac, Purple & Pink Dye 

Blue & Red Dye 

Orange and Red Shades

Tulip (orange); Red and Yellow Dye

Roses, Red Tulip, Beets, Poppy 

White Shades

Lily of Valley, Bone Meal (from skeletons) 
Follows Bed Placement "Rules"
Beds need at minimum two blocks of space unless you want to face glitches with an obstructed bed. Keep this in mind when you have unique bed designs, like bunk beds.  My goal is to find designs that understand these rules but aren't afraid to play with them. The result? Unique, but useful designs you can use!

Minecraft Bed Designs 
Dye isn't the only way you can craft a unique bed in Minecraft. If you want to build a Minecraft bedroom that isn't generic, upgrading the bed pattern or style is a great way to start. Of course, changing your bed aesthetic isn't needed for Survival Mode, but it's a great idea for towns where you want to stand out. These are some of my favorite ways to jazz up homes, from lofts to jungle-based bedrooms. Even better, they're realistic and fun designs that are pretty easy to make. Why these designs? They're simple enough but also unique enough to stand out. I like these designs because if you're like me, you have lots of projects up your sleeve- and want to be able to try different designs or templates without spending too much time. 
Basic Bunk Bed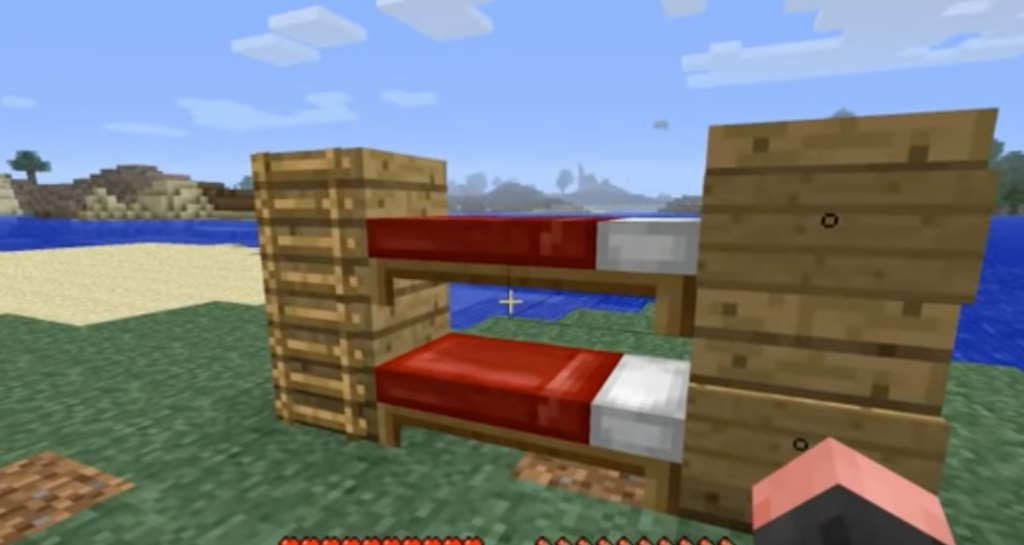 Hands down, a bunk bed will get the most mileage in your Minecraft game– especially if you like making dwellings that can accommodate more villagers. I admit: I figured that bunk beds would run into bugs, and they can if you don't place them correctly. But set them up well and they're quite handy. For a basic bunk bed, you just need to know how to stack a bed in Minecraft. Before you say beds don't stack–as I assumed- there's a little hack. Place a bed on a solid block, against the two signs. By knocking the blocks underneath, the 1st bed will hang suspended. Now, you'll be able to place a bed underneath it. Add ladders and you're done. This simple design can be traditional or modern. Watch the Tutorial Here. 
Main Materials
4 Wooden Planks

2 Beds

2 Ladders

2 Signs
Building/ Design Time
5 minutes

> 1-minute tutorial 
Loft Bed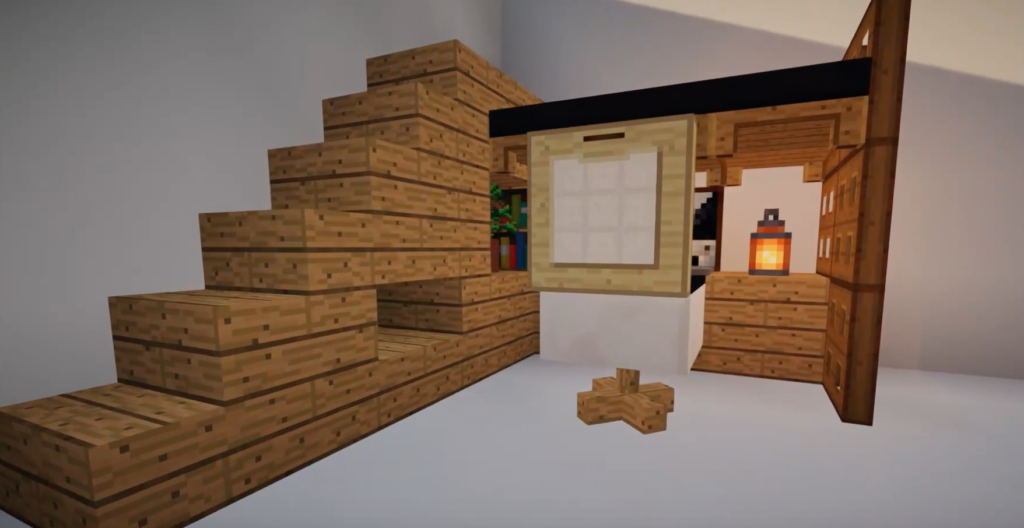 Honestly, if I had to choose between bunk beds vs a bunk bed with a desk, I'd pick the desk. Is it more practical? Not necessarily. I suppose my preference for a loft bed design may just reflect my real-life personality. I'm always writing or reading, and I've lived in many places with limited space so this design is right up my alley. You more or less build it using the same hack as a simple bunk bed, but the desk makes this design a bit trickier. Perfect for a modern house, The bunk bed features side steps, with a bed hanging over a desk and chair. Adding decorations to the desk, like books, plants, or a laptop. The trick is to make sure the steps are built off to the side, with two blocks of clearance between the steps and the start of the desk. Watch the Tutorial Here. 
Main Materials
Desk Decor- Lantern, Plants, Books, Laptop

Trapdoor

Hopper

Wood Steps

Slab

Concrete

Bed
Building/ Design Time
10 to 15 minutes

4-minute tutorial 
Canopy Bed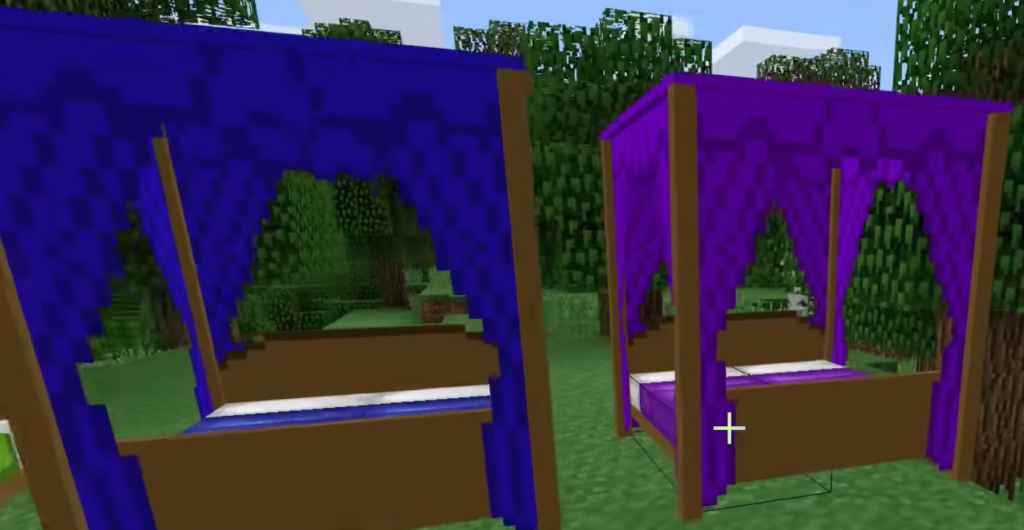 I had a canopy bed when I was young, so being able to design one in Minecraft is especially fun for me. But while my canopy bed was a bit more on the cute side, I wanted to find a design that would suit traditional and modern aesthetics. This style of the bed adds a dramatic touch to a master bedroom and can be made in a more minimalist, Victorian, or even rustic style. Darker wood has a more traditional look, while lighter wood will brighten up a bedroom. It's quite simple to craft this bed. All you need to do is use wood fences for the headboard, erect pillars, and a covering to create the canopy. The trick is to just make sure that you have enough clearance to get in and out of the bed. Watch the Tutorial Here. 
Main Materials
Building/ Design Time
10 to 15 minutes

4-minute tutorial 
Emoji Beds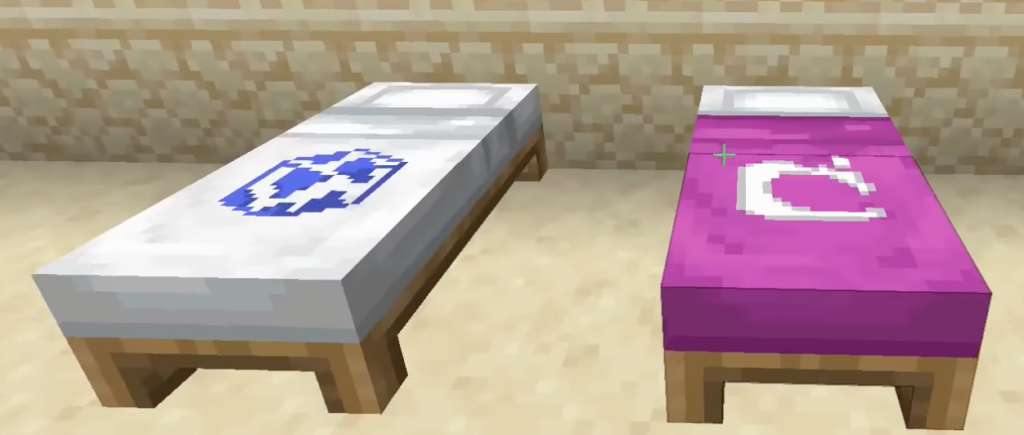 Custom banner beds are one of the easiest ways to play with patterns and styles in Minecraft. Emojis are a great idea for mimicking a younger/ kid's room. I guess I just find custom banner beds to be a nice change from plain colors for bedspreads and sheets. Here, you keep the basic bed recipe/ template but play with patterns. An enchanted apple crafted with paper gives you a banner paper. From there, you have different hacks to get different designs. For instance, you have to find a creeper head (consider the channeling enchantment) to get a creeper emoji pattern. Withered skulls, flowers, and more are available. I like that there's a bit of in-game challenge to get these patterns. Patterns must simply be thrown onto your bed to be applied. You can even layer designs! Watch the Tutorial Here. 
Main Materials
Dyed Wood

Wood Planks 

Various Items, Depending on Pattern

Enchanted Apple + Paper 
Building/ Design Time
10 to 15 minutes

6-minute tutorial 
Kawaii Beds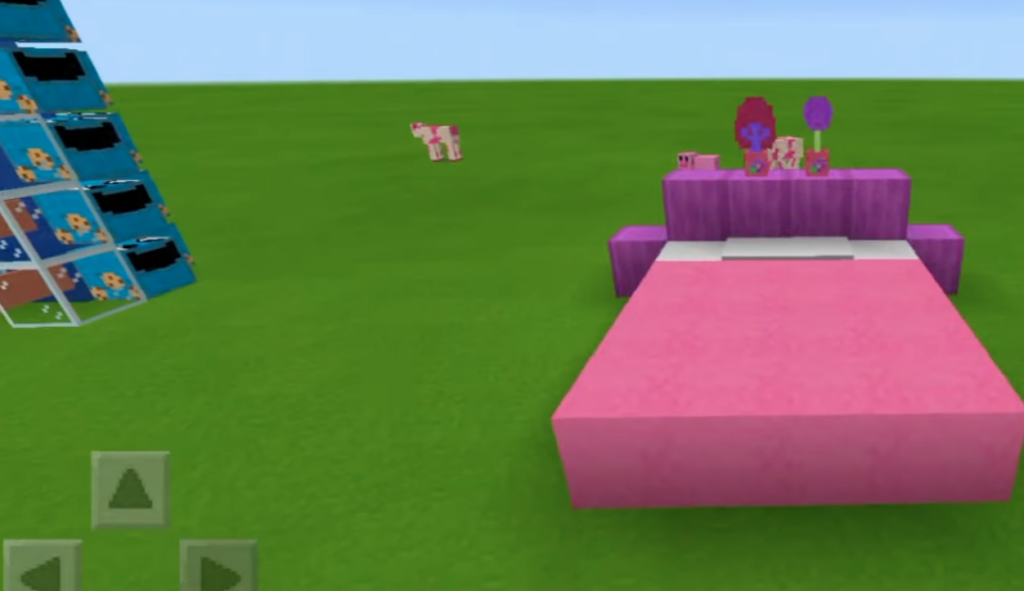 Kawaii style is popular as ever, from fashion to music to game. I wasn't too surprised, then to find cute beds designed in a Kawaii aesthetic for Minecraft too. Even if it's not my favorite style (I'm drawn to cooler tones and rustic styles), what I love is how expressive these designs are. If I had to pick just one thing I admire about Minecraft, it's how it really can be an outlet for creativity for just about anyone. A few of the Kawaii designs embrace motifs, like a kitty, vibrant prink colors. I love adding side bookshelves for a bit of flair. The tutorial is by a young creator who's very passionate about their creative bed patterns.  One thing I'd tweak is the carpet placement: it's a bit too close to make sure that it's functional. Watch the Tutorial Here. 
Main Materials
Bookshelves

Dyed Wool

Carpet

Wood Planks 

Flower Pots, Plants 

Concrete Slabs 
Building/ Design Time
5 to 10 minutes (depending on what you choose)

4-minute tutorial 
Modern Bed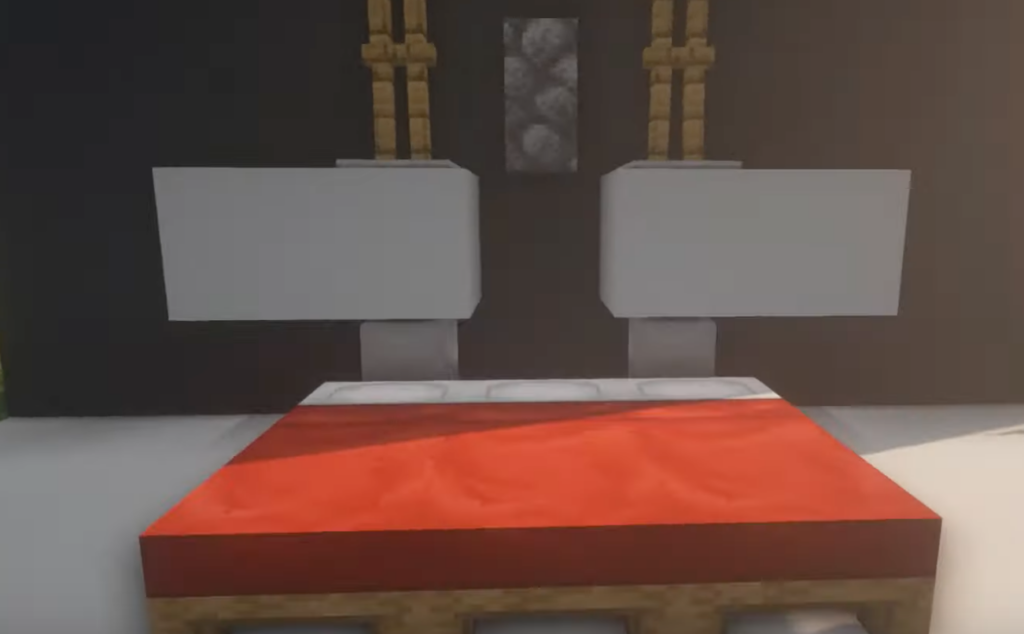 Minecraft has a certain charm to what I'd call its 'traditional style.' A more natural, slightly clunky look fits right into the game, whether you have a house in the jungle or a small town. But one thing I find challenging sometimes is matching a more modern aesthetic for a current-day city or metropolis. For that, minimalist houses and furniture are a great way to go. While this modern bed looks like it'd have a fairly simple template, the little details make a difference in the result. Beds are placed on a platform, with cut-out blocks behind them. The hole is filled with a series of chests and an armor stand that creates the unique back headboard. Stacked concrete blocks and pistons add to a minimalist look. I like a striking color for the bedspread, like vivid red. Modern form lamps on either side complete the design. Watch the Tutorial Here. 
Main Materials
Concrete

Dyed Wool

Wood Planks 

Armor Stand

Pistons
Building/ Design Time
5 to 8 minutes

3-minute tutorial 
Backboard Bed Collection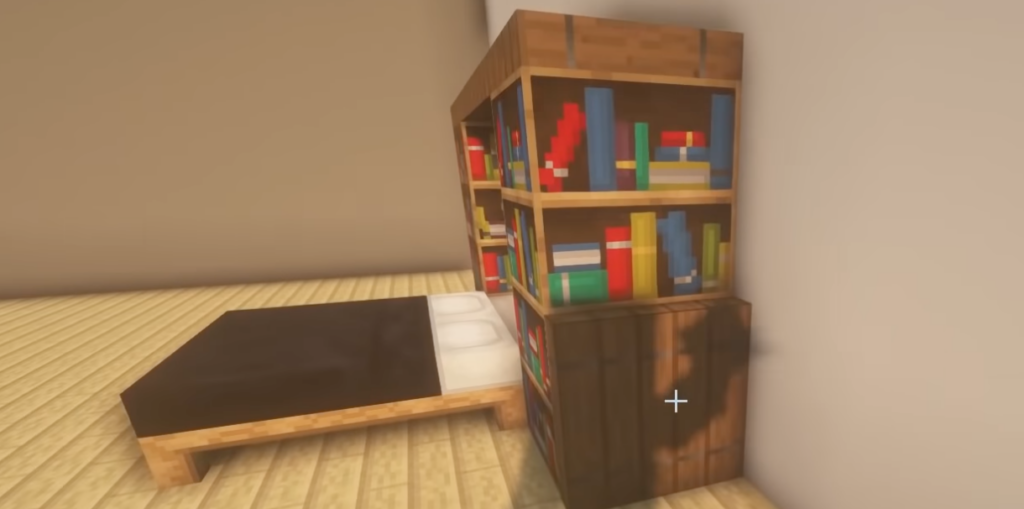 I love a great backboard bed– it just really adds a modern but classic touch to a Minecraft bedroom. You'll be spending a lot of time in bed in Minecraft, so you might as well make it seem comfortable. A backboard bed takes the basic principles of a simple bed, using wooden planks to support its base. This incredible collection of several designs mostly plays with color and textures, from traditional to elegant. Better yet, it's an easy blueprint to follow with plenty of designs for plenty of inspiration. If I'm bored of basic beds, this is a go-to for ways to design up to 10 different looks, all in a matter of minutes. Watch the Tutorial Here.
Main Materials
Wood Planks
Basic Bed Recipe
Plants
Bookshelves
Building Time
5 to 15 minutes
8-minute tutorial
Bed with Aquarium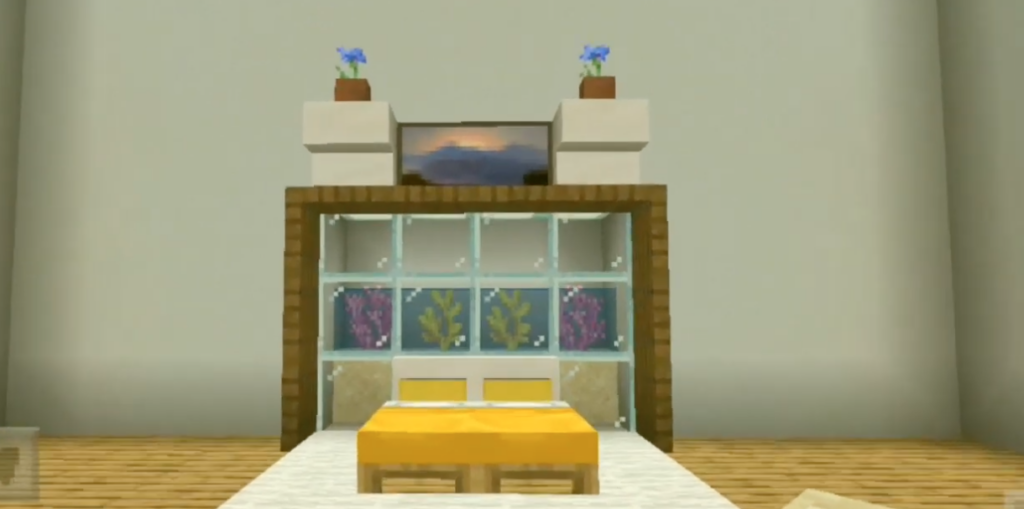 I admit: I wish I could have a bed like this in real life. How relaxing would it be to watch fish swim by in your bedroom (I doubt my cat would react the same way)? For now, though, this is one of my favorite ways to design a bed in Minecraft. All you need are flowers, glass panes, and a little sea flora. The aquarium wall is constructed directly behind the main bed and serves as a headboard of sorts. I like the play of color by opting for a yellow or even orange dye for the main bed. Decorate the rest of the room with motifs inspired by the sea. This is perfect for a house by the sea, a lake, or a river. Watch the Tutorial Here.
Main Building Materials
Wood Planks
Glass Panes
Plants
Building Time
10 minutes
7-minute tutorial
Car Bed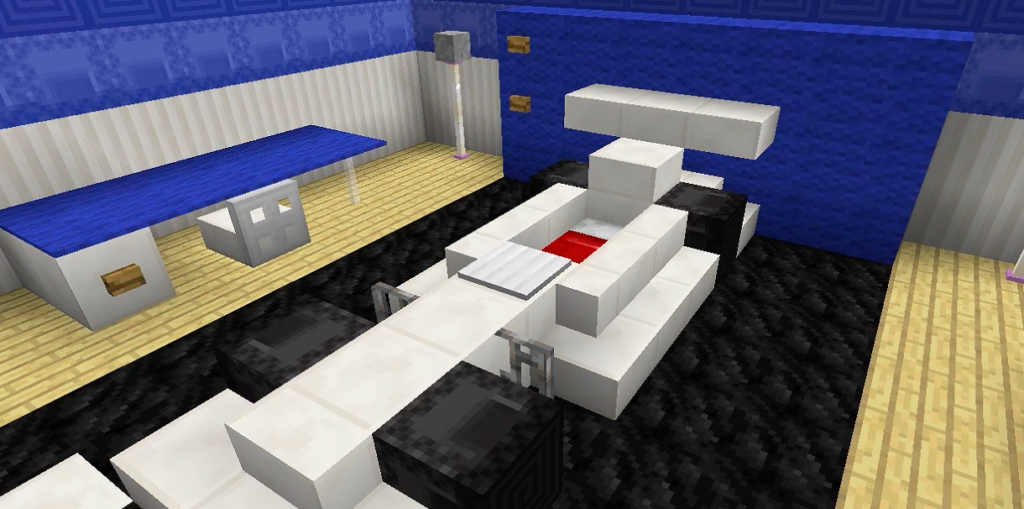 My brother always used to love car beds, and now I see why. There's something purely fun about this design, and a red dye makes it all that much more impressive– though you can customize it with the dye of your choice. Now, this is a slightly more advanced bed design, taking the basic template but layer concrete blocks to achieve the look. It's tricky to layout properly but luckily a step-by-step tutorial means most people will be able to pull off this unique design. I chose it because it stands out to me as yet another example of creativity in the Minecraft community. Watch the Tutorial Here.
Main Materials
Concrete Blocks, Multiple Colors
Wood
Carpet
Build Time
10 minutes to 15 minutes
3-minute tutorial
All-Black Bed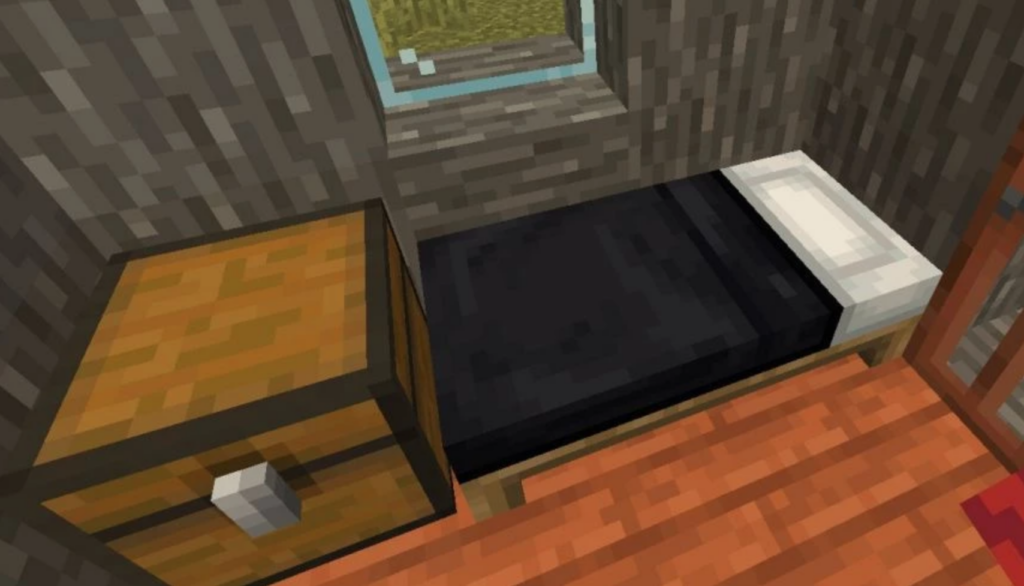 My final design choice is Gothic, simple, and a great addition to a spooky home. I like going for a classic black bed, especially during Halloween. There's something atmospheric about it, and I know it's not just me that loves a little spooky twist to a Minecraft house. Pairing it with other black furniture does the trick of catching that ambiance. All you need to do to acquire some black dye from sheep and stain your design black all over. A black bed is the most simple design I have on here, but it's also a classic for a reason. Watch the Tutorial Here.
Main Materials
Black Dye
Wood
Wood Planks
Decorations
Building Time
5 minutes
2-minute tutorial
Frequently Asked Questions
Question: How long is a Minecraft day?
Answer: Knowing the day and night cycles in Minecraft is useful when you're playing in Survival Mode and want to make the most of your time. Plus, certain mobs will be more or less active for night vs day. Days last around 10 minutes, while nights last 7 minutes. Of course, I like that just like in real life, you can estimate the time of day by where the sun is in the sky. When it's night, you'll be able to use a bed to get the sleep you need. 
Question: How do you set your home in Minecraft?
Answer: It can easily, if you're like me, lose track of where you are in Minecraft. I tend to get so involved in something else that I might forget the locations of important things. Luckily, by setting up your home you can easily find your bed– you can even teleport to bed if you want. All you need to do is to establish a spawning spot. Sleeping in one bed consistently will make that your spawning location. However, if you need to change it, you can enter the spawn point commend. For the Java version, the command is: /spawn point [targets] [pos]. And don't rely on a compass: a compass in Minecraft never points to your bed. 
Question: Can villagers use bunk beds?
Answer: I like that villages are life-like. What I mean by that is they do things on their own, just as hold down jobs, interact with others, and even have a family. So not only do they use beds, they require them. You can't have villagers without beds. If you provide enough space and design it correctly, they can use floating and bunk beds too. However, I recommend testing them to make sure they function as intended. 
Question: What are the best Minecraft mods for custom beds?
Answer: One mistake I make is not always checking out the best mods for games. As much fun as Vanilla Minecraft is, there are countless great mods out there, and every time I look into mods, I'm wowed by talented creators. There are several bed and bedroom mods for Minecraft, so I picked my top 3 mods for beds specifically that I recommend. All can be downloaded from the CurseForge site, which is safe, secure, and free to download from.  You can get Argyle, buffalo plaid, plain, and horizontal patterns from this mod. I also really like the Better Beds Mod, which is confined to fabrics and replaces the default model. While it doesn't work for bedspreads, it should behave the same as the Vanilla version and is meant to expand design options by increasing the ids allowed. It's a modest mod, but a nice addition to Minecraft bed designs if you feel limited by your current options.
Question: What is the Game rule player sleep percentage?
Answer: Here's a hack if you're not happy with how much you or villagers are set to sleep. The Gamer command allows you to adjust the sleep percentage, or time villagers will spend in bed. If you're playing on PC, enter the following command: command /gamerule playersSleepingPercentage <value>  The value indicates the sleeping percentage. You may enter 0 to 100. This establishes who needs to sleep in your town (but it doesn't affect how many hours). So if you enter 25 for the percent, 25 percent of villagers will sleep per day. 
Final Thoughts 
Just browse through pictures of Minecraft beds, and you'll be amazed at how many models there are. From royal double beds to a simple bed for a tent, it just goes to show that something as simple as beds in Minecraft only takes a talented editor.  Beyond the basic bed recipe, there's no one formula. And if you want to add mods to your game, there are even more bed designs to discover.  A furniture mod includes more than eighty pieces of furniture, including unique textures for both indoor and outdoor furnishings. Sure, I love designing my own Minecraft beds. But I also love seeing all the amazing creations that the community has to offer.